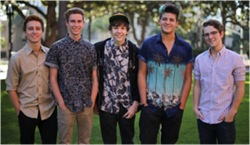 "We work hard and play every gig that will have us. Being nominated for this award is very exciting because it shows that we are starting to make a name for ourselves and getting recognition in music circles."
Newport Beach, CA (PRWEB) February 25, 2014
Undecided Future has been a band to watch since the five rising musician-singer-songwriters came together to form their ska pop, high energy, feel-good sound in 2012.
The band consists of five members who are students of Orange County School of the Arts (OSCA): Matt Jarnagin (lead vocals), Matisse Pasillas (drums), Nick Stone (keyboards), Hayden Lyskoski (bass) and Cole Fredrick (guitar).
"We love the music and we love performing together, " says Jarnagin, one of the founders of the band. "We work hard and play every gig that will have us. Being nominated for this award is very exciting because it shows that we are starting to make a name for ourselves and getting recognition in music circles."
The band's popularity emerged quickly out of the early days playing on-campus for their fellow students. In the last year Undecided Future has performed on the stages of Whisky a Go Go, the House of Blues in Anaheim and opened up for the English Beat at The Coach House in San Juan Capistrano. They are set to play Surf City Nights in Huntington Beach on April 15, and are teaming up with one of the other nominated bands for a special show at The Festival Hall, Santa Ana, on February 27th.
"We have a large fan base and we appreciate how they come out to support us," says Fredrick, lead guitarist. "It would be great to be able to share this award with them."
With original music in production for their first album, the band agrees that winning the award for Best Youth Artist in the 2014 OC Music Awards would be an exciting step to growing their exposure in the music scene.
Connect with the band on Facebook for more information.