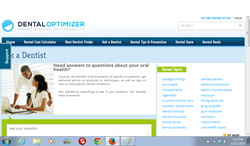 "...it helps their members make the wisest choices about care." - Andrew Clapp, Healthy Grid
Portland, OR (PRWEB) February 21, 2014
Healthy Grid announced a new format for their popular Dental Optimizer tools. Dentists and insurance companies can now select the features they want and offer them as a "white label" part of their web marketing.
Healthy Grid's Dental Optimizer has received a warm reception by many dentists, dental groups, and insurance companies. Large employers even find it useful to help their employees simplify the process of finding the best dental care. The basic form of the Dental Optimizer connects people to the right dentists and offers them an array of programs to help them better understand and take care of their teeth. Participating dentists benefit as the Dental Optimizer funnels inquiries from patients to them. The basic format is customizable and it does allow for individual branding of the features but many clients expressed the need to take the customization further.
"The feedback we've been getting from the original, public Dental Optimizer has been great and we're keeping that program for people and dentists who like it," says Healthy Grid's Andrew Clapp. "We're branching out and trying to fill the requests from clients who want to serve a closed population, like a group of insureds. We're also hearing from dentists who maybe want some of the features on their website. The common question is 'can we put our name on it?' Yes they can."
According to Clapp, the Ask-A-Dentist feature is one of the most popular programs on the Dental Optimizer. This feature allows people to submit dental questions to be answered by a dentist. Participating dentists then answer the questions and advise the inquirer about appropriate care. As a custom white label feature, a dentist could apply Ask-A-Dentist to to their website or social media with their own branding. Or an insurance company could attach the feature to their website and direct the questions to dentists in their network.
"Ask-A-Dentist has really stood out among the features we offer. People get a chance to find out if they really need an appointment and the dentists get an opportunity to build a little credibility while helping," says Clapp. "As a custom feature it provides a way for people to start a dialog with a dentist without feeling locked in. For insurance companies it helps their members make the wisest choices about their care."
Another feature finding favor among both patients and dentists has the been the Cost-Calculator. As people struggle with the anxiety surrounding the cost of dental care, the Cost-Calculator gives them an opportunity to find out the going rate for the care they seek. Healthy Grid uses a combination of location, practice, quality, and hard data from insurance companies to determine the estimates they offer. This feature helps motivate patients to action and sends a signal to the dentists about the degree of motivation of the patient.
"The Cost-Calculator generated our first requests for customization," according to Clapp. "It makes sense: dentists want to have a little more control over what people expect the price be. Insurance companies like the idea of taking this format and using it to inform their members what to expect based on their needs. We know that people like the idea of being informed when they're seeking care."
The Cost-Calculator will be upgraded in the near future as well. Clapp noted that insurance companies can expect improvements this year that will allow them to give out-of-pocket estimates based on members' plans. In addition, the white label packages will include new features not available on the public site.
Dentists, dental groups, insurance companies, and any other interested parties can learn more from Healthy Grid via http://www.healthygrid.com.