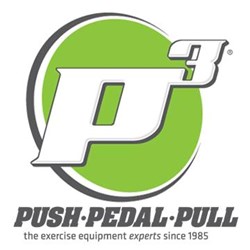 We don't want anyone to be intimidated by their new fitness equipment or feel like they have to do everything alone.
(PRWEB) February 20, 2014
Push Pedal Pull, a leading retailer of home and commercial fitness equipment, is pleased to announce a new alliance between its Brentwood, TN, store and Williamson Source, a local content and media company based in Franklin, TN. The partnership, which began in January 2014 and is ongoing, was formed for the purpose of educating Nashville-area residents about the importance of physical fitness to overall health and well-being.
Central to achieving this aim is having the ability to reach a wide audience, which is why Williamson Source emerged as a natural partner for P3. With a well-trafficked website and an active presence on major social media networks, Williamson Source is a trusted name for news, information, and lifestyle topics-- including health and fitness tips--in the greater Nashville area.
To date, the P3-Williamson Source collaboration has generated several popular videos in which Brentwood store manager Lynn Fragetta demonstrates how to use various exercise machines and explains the Push Pedal Pull approach to fitness education.
"We're not here to sell customers the most expensive piece of equipment off the showroom floor," Ms. Fragetta says. "We are truly interested in matching people up with a machine that not only targets their preferred fitness category, such as cardio or strength training, but also meshes with individual factors like gait, stride, range of motion, and even how much space is available in their home. These factors tend to be overlooked by the other guys, but make a huge difference in terms of how likely a person is to stick with a new program."
Ms. Fragetta further points out that P3's involvement with customers doesn't end the moment they sign on the dotted line. In addition to providing delivery and installation on all purchases, P3 also offers a complimentary 30-minute session with a certified personal trainer to ensure the buyer understands how to use the equipment safely and effectively.
"We don't want anyone to be intimidated by their new fitness equipment or feel like they have to do everything alone," explains Ms.Fragetta. "Our personal trainers will make sure you leave with the knowledge and confidence needed to get the most out of your purchase."
Forming strategic partnerships to assist with promoting better health and fitness in local communities is nothing new for P3. The company has also recently teamed up with Des Moines, IA, television station KCWI to produce weekly TV segments touting the benefits of regular exercise and healthy eating choices.
For more information about Push Pedal Pull's efforts in Brentwood, TN, please visit pushpedalpull.com and select "Nashville" from the Store Locator drop-down menu.
About: Formed in 1985, Push Pedal Pull has developed a nationwide reputation as local exercise equipment experts. They are an industry pioneer and a recognized leader in the sales and service of premium fitness equipment for both residential and commercial settings. Today, the company is one of the largest fitness equipment dealers in the country, with over 28 years of growth and stability in the specialty fitness industry.