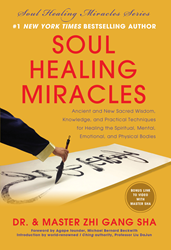 New York, NY (PRWEB) February 20, 2014
New York Times bestselling author and founder of Soul Mind Body Medicine™, Dr. and Master Zhi Gang Sha, is leading a soul healing movement around the world helping individuals to find a path to harmony with the universe, achieve balance in their lives, cleanse their karma, be of service to others, and live a life that fulfills their soul's purpose. Being a direct channel from the Source, Dr. Sha focuses on Soul Power, and delivers soul wisdom and enlightenment by lifting the soul to a higher spiritual level in heaven. In a rare opportunity, Dr. and Master Sha invites individuals to register for the Soul Healing Miracle Days, Wednesday – Friday, February 19-21 at 5:00pm ET (honor fee $95 CAD), located at Master Sha's Soul Healing Centre, 1160 Ellesmere Road, Toronto, ON M1P 2X4 Canada or via global webcast. Each registrant can bring 3 guests for free to Soul Healing Miracle Days live or in-person. Plus, Master Sha will be available by appointment for personal consultations. To attend in Toronto or via global webcast, visit: http://www.DrSha.com.
Millions of people are searching for wisdom to transform their health, find true love, advance their spiritual journey, and find financial balance -- all while seeking life's purpose. Dr. and Master Sha says, "Everything has a soul. If you heal the soul first, then healing of the mind and body will follow." Registrants to Soul Healing Miracle Days are gifted free admission for 3 extra people who will receive the same gifts and blessings during these three rejuvenating Soul Healing Miracle Days. During these powerful Soul Healing Miracle Days, Master Sha along with Worldwide Representatives Master Sher O'Rourke will bestow participants with generous and invaluable soul healing opportunities, plus they will teach:

Everything has a Soul
What is Soul Healing
The Significance of Soul Healing
The Cause of physical, mental, emotional and spiritual challenges
How to identify good karma from negative karma
How to clear and transform blockages
Divine Soul Healing knowledge, wisdom and practices
Modern medicine focuses on matter inside the cells. Traditional Chinese medicine and many other healing modalities focus on the energy between cells. Soul Healing focuses on the soul. Everything has a soul. Every person, pet, organ, cell has a soul. Soul blockages are the root cause of most challenges in life. Soul blockages are karma. Karma is the record of a person's service in past lives. Karma is divided into good karma and negative karma. When one is kind, loving, compassionate, selfless and generous in thoughts, words, actions and deeds, one accumulates good karma or virtue. When one makes mistakes, such as killing, cheating, and harming others, one accumulates negative karma. Mind blockages are negative mindsets, attitudes and beliefs. Body blockages are energy and matter blockages. If a person is sick, the soul is sick. A soul is a golden light being. Soul is spirit. Soul is message. Soul is the essence of life.
To Register for the Soul Healing Miracle Days in-person or via webcast with Dr. and Master Zhi Gang Sha, or to locate one of Master Sha's Worldwide Representatives in 22 cities, please go to http://www.DrSha.com or call Master Sha's Soul Power Centre in Toronto: 416-609-2777.
Dr. & Master Zhi Gang Sha is the soul leader, a world-renowned master healer, and a divine servant. He is the founder of Soul Mind Body Medicine™. He was trained as a conventional medical doctor and a doctor of traditional Chinese medicine. The founder of the Institute of Soul Healing and Enlightenment™ and the Love Peace Harmony Movement™, Master Sha is a grandmaster of many ancient disciplines, including tai chi, qigong, feng shui, and the I Ching. Master Sha is also an expert in the most advanced cellular healing science now occurring in China. In the West, he is involved in breakthrough research on the effects of spirit on the human system. Dr. Sha was named Qigong Master of the Year at the Fifth World Congress on Qigong. In 2006, he was honored with the prestigious Martin Luther King, Jr. Commemorative Commission Award for his humanitarian efforts.
Dr. and Master Zhi Gang Sha has more than 100,000 followers on Facebook and an additional 250,000 devotees worldwide. The Soul Healing Miracles™ Chanting Channel fosters a soul healing community to learn and use chanting and soul songs for personal, spiritual, mental and soul development. Dr. and Master Sha's Soul Healing Miracles™ Daily Live TV airs everyday on Livestream, 9am PT, 12pm ET. Master Sha's national television show, The Divine Soul Song Series airs several times each week across the US, as well as worldwide on on TelosTv.com's worldwide digital network and http://www.DrSha.com. There are more than 1,200 Soul Healing miracle videos posted on Dr. and Master Sha's YouTube Channel (http://www.youtube.com/zhigangsha ), with over 1.1 million views. Everyday people all over the world are experiencing personal Soul Healing miracles and sharing their video testimonials so that others can benefit from these powerful and life-changing results.
Master Sha is author of more than 10 books published by Simon & Schuster (Atria Imprint) and his newest book series and book, Soul Healing Miracles (BenBella) released on November 12, was a national bestseller. Dr. Sha's most recent New York Times bestselling book, Divine Healing Hands (September, 2012) topped national bestseller lists within 24 hours of publication and his 2011 book, Tao Song & Tao Dance was also a New York Times bestseller. All of Dr. Sha's Soul Power books, DVDs and CDs, reveal soul secrets, wisdom, knowledge and practical techniques to transform every aspect of life, and are bestsellers throughout the world. Visit Dr. Sha on his website http://www.DrSha.com and http://www.facebook.com/DrandMasterSha to receive FREE daily Soul Healing blessings via webcasts, teleconferences and in-person at events held throughout the world.