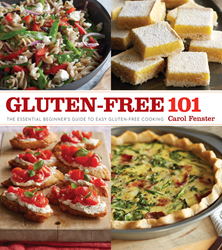 'Gluten-free baking can be overwhelming, especially for beginners who are unfamiliar with gluten-free ingredients and baking principles,' says Carol Fenster
Denver, CO (PRWEB) February 24, 2014
Gluten-free baking can be overwhelming, especially for beginners who are unfamiliar with gluten-free ingredients and baking principles. These tips from gluten-free baking expert, Carol Fenster, author of Gluten-Free 101: The Essential Beginner's Guide to Easy Gluten-Free Cooking can assure success.

Use cookbooks specially designed to be gluten-free.
This assures early success and builds confidence, especially for beginners who must learn how gluten-free ingredients perform and how baking principles differ when using these ingredients. Later—after gaining experience—use this new knowledge to convert those favorite family recipes to gluten-free versions.
Follow recipe instructions exactly as written.
Gluten-free batters and doughs use more liquids and are, therefore, softer and wetter than wheat-flour versions, so don't add more flour—which results in dry, crumbly baked goods. "It's tempting to think that more flour is needed in the recipe, but we need softness in gluten-free batter and dough to assure a moist, palatable bread, cake, or brownie," says Fenster.
Use a blend of gluten-free flours, rather than one single flour.
This is important because no gluten-free flour performs like wheat flour, so gluten-free flour blends are formulated with flours that—when acting together—replicate the properties of wheat flour. These blends can be store-bought or assembled at home. Fenster's favorite blend consists of sorghum flour (or sometimes brown rice flour), potato starch, and tapioca flour and is used throughout her book for beginning cooks, Gluten-Free 101: The Essential Beginner's Guide to Easy Gluten-Free Cooking.
*Use proper measuring cups.
Use dry measuring cups to measure dry ingredients; liquid measuring cups for liquid ingredients. What is the difference? Liquid measuring cups have spouts and are usually see-through such as glass or plastic; dry measuring cups are usually made of metal and nest together. Using a liquid measuring cup to measure flour usually results in too much flour.
*Measure correctly.
"Run a whisk through the flour to aerate it a bit, since flour compacts down when it sits in the canister for extended periods of time," says Fenster. "Loosely spoon it into a measuring cup and level the top with flat side of a knife." She cautions against "rounding" (leaving the hill or bump of flour) unless specified in directions and never pack flour down. "Incorrect measuring can yield 20% more flour than needed, leading to dry baked goods," she adds. See "How to Measure Flour" under the Videos button at http://www.CarolFenster.com or http://www.CarolFensterCooks.com.
Add xanthan gum or guar gum.
Gums compensate for the missing gluten and improve texture in baking. Without gums, baked goods crumble and fall apart. This is especially important when converting family recipes to be gluten-free, since the original recipe will not mention gums and it is easy to forget them.
Substitute several smaller baking pans for one larger pan.
Breads may be more successfully baked in several smaller loaf pans—for example, several 4x6-inch loaf pans instead of one 5x9-inch or 4x8-inch loaf pan. For cakes, a Bundt pan (instead of a 9x13-inch pan) produces more successful cakes because the circular shape with a hole in the middle allows more even heat distribution and reduces the chances of falling.
Use the right baking pan.
Nonstick pans (gray, not black) are best for breads, cakes, bars, and muffins because the color and nonstick coating promote proper browning, which is essential for proper texture. For cookies, however, nonstick baking sheets can cause excessive browning so it is better to use standard (not nonstick) baking sheets. Be sure to generously grease baking pans and use parchment paper on baking sheets to avoid sticking.