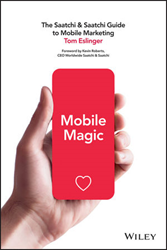 New York, NY (PRWEB) February 24, 2014
With 75% of the world's population having access to a mobile phone, marketers are scrambling to understand how consumers might invite them onto their devices.
A new book Mobile Magic: The Saatchi & Saatchi Guide to Mobile Marketing (Wiley, February 2014) written by digital communications expert Tom Eslinger offers a roadmap for creating effective mobile marketing campaigns. From creative concept to campaign maintenance, Mobile Magic draws on the experience of Saatchi & Saatchi's leading digital practitioner. Tom Eslinger is Worldwide Creative Director of Digital at Saatchi & Saatchi, based in New York.
Mobile Magic is a resource for brand marketers and small business owners, focusing on the strategic opportunities and practical implications of mobile marketing. The book presents a wide range of insights into the mobile market, a field that is getting bigger and more complex every day. In a noisy market, Mobile Magic provides a clear voice to help navigate every step of the mobile market process.
The book includes advice for defining success in mobile marketing, understanding audiences, search and social, location-based services, hiring vendors, advice on budgeting, potential legal issues and ideas for creating impactful campaigns to make emotional connections. Mobile Magic includes real-world case stories from Saatchi & Saatchi clients Lexus, General Mills' Lucky Charms and P&G's Gillette Venus.
The core principle of Mobile Magic is the "MIST" - Mobile, Social, Intimate and Transactional. These four principles are core to all successful mobile marketing campaigns. Without them, any mobile app, website, augmented reality project, game or texting campaign will never reach its full potential.
"Tom Eslinger is a Saatchi & Saatchi digital pioneer and someone who really walks the talk," says Kevin Roberts, CEO Worldwide of Saatchi & Saatchi, who wrote the foreword to Mobile Magic. "This book takes his many years of experience and translates them into a something that should be on the desk of every business interested in engaging customers through their mobiles. If you need a guide to communicating and transacting on mobile – Mobile Magic is your new best friend."
"Mobile is the fastest-growing arena of marketing, but it is also is a space that can be intimidating for all types of business because the customer is in total control and brands have to be invited in," says Tom Eslinger. "We've pulled back the curtain and show that it doesn't need to be scary. Start with a creative idea, understand the executional options, manage your budget and resources, and plan for every step of the process. We think businesses are going to get a lot out of Mobile Magic."
Mobile Magic is the tenth book from Saatchi & Saatchi in a decade. Other books have covered the future beyond brands, cause marketing, leadership, and the screen age. Collectively the books have sold over 300,000 copies. Mobile Magic is now on sale at Amazon.com and at selected booksellers.
About Saatchi & Saatchi
Saatchi & Saatchi (http://www.saatchi.com) is part of Publicis Groupe, the world's third largest communications group, with offices in 80 countries. Saatchi & Saatchi is known for its outstanding creative ideas that generate powerful emotional connections between consumers and products. This is a key element in Lovemarks, Saatchi & Saatchi's unique methodology for elevating the status of brands to create "loyalty beyond reason" and "inspirational consumers."
About Tom Eslinger
Tom Eslinger is Saatchi & Saatchi's multiple Cannes award-winning Worldwide Creative Director of Digital . The North Dakota native and graduate of the Minneapolis College of Art and Design has led digital creative projects across the Saatchi & Saatchi network in North America, Europe and Asia Pacific. Based in New York, Tom has a worldwide focus across network clients for integrated digital creative, strategy and operations. During his tenure at Saatchi & Saatchi since 1998, Tom has worked across social media, mobile, augmented reality and games for brands including adidas, Burton Snowboards, Cadbury, Coca-Cola, Lexus, Novartis, Procter & Gamble, Sony Ericsson, T-Mobile, Toyota and Visa. http://www.linkedin.com/in/tomeslinger