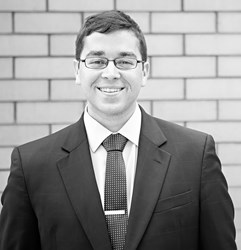 I'm thrilled to be nominated by SME Education Foundation for the New Faces of Engineering. I've been a member and supporter of SME for a number of years, since I was in college. It's an honor to be acknowledged for my work.
Dearborn, MI (PRWEB) February 20, 2014
SME Education Foundation is proud to announce SME member, Chris Agrawal, has been named as one of the New Faces of Engineering for 2014. This distinction honors young engineers (age 30 or younger) for their outstanding achievements that significantly impact public welfare or further professional development and growth.
The New Faces of Engineering program was created as part of the Engineers Week's celebration of engineering. By highlighting the contributions of young engineers, this program provides role models for children and young adults. It helps to demonstrate that careers in engineering can lead to meaningful, satisfying and life-enriching opportunities to make a difference in the world.
Chris earned a Bachelor of Science degree in mechanical engineering at George Washington University (GWU), graduating magna cum laude in 2005. He continued his education at the GWU law school and earned a J.D (Juris Doctor) in 2009. Today, you'll find him working as a patent attorney for Bookoff Mcandrews PLLC, an intellectual property law firm in Washington, D.C.
At Bookoff, Chris helps technology companies with the procurement of patent protection for their new technologies. He works with scientists, engineers and other patent attorneys to develop patent strategies that support his client's goals, such as securing market exclusivity and the freedom to market new products and services.
Achievements

Worked within a core team of IP lawyers in marketing and selling a patent portfolio for over $1 billion.
Managed a patent harvesting and filing program for a publicly traded Internet company for over five years.
Currently advises several start-up Internet, software, and e-commerce companies on all aspects of their IP strategies.
Successfully represented a military defense contractor in enforcing its trade secret rights in U.S. district court.
Studied under an administrative patent judge at the United States Patent Trade Office's (USPTO) Board of Patent Appeals and Interferences.
Awarded First Place and Best Appellate Brief in 2008 George Washington University Law School IP Moot Court Competition.
"I'm thrilled to be nominated by SME for the New Faces of Engineering. I've been a member and supporter of SME for a number of years, since I was in college. It's an honor to be acknowledged for my work," said Agrawal.
The need to inspire our nation's youth to embrace STEM (Science, Technology, Engineering and Math) education has never been greater. According to Georgetown University, Center on Education and the Workforce, of the 15 major categories, engineering has the highest median earnings, yet less than 20% of students choose a STEM path. It is also projected that that by 2018, the U.S. may be short as many as three million high-skills workers.
The SME Education Foundation sponsors Engineers Week and the New Faces of Engineering program as part of its mission to inspire, prepare and support the next generation of engineers. Engineers Week is the only event of its kind – that celebrates all the ways engineers can make a difference in our world.
The New Faces of Engineering program recognizes a number of new recipients every year. This group is featured on the DiscoverE website and in a national print outlet during Engineers Week with a photo and statement about each of their accomplishments. The New Faces are also designated as "engineering ambassadors" and may be asked to participate in a variety of outreach or community-building events.
About the SME Education Foundation
The SME Education Foundation is committed to inspiring, preparing and supporting the next generation of manufacturing engineers and technologists in the advancement of manufacturing education. Created by SME in 1979, the SME Education Foundation has provided more than $33 million since 1980 in grants, scholarships and awards through its partnerships with corporations, organizations, foundations and individual donors. Visit the SME Education Foundation at smeef.org. Also visit CareerMe.org for information on advanced manufacturing careers and ManufacturingisCool.com, our award-winning Web site for young people. Follow @mfgeducation on Twitter.
About DiscoverE
DiscoverE works year-round to sustain and grow a dynamic engineering profession critical to public health, safety, and welfare. The foundation supports engineering outreach, education, and celebration through a network of thousands of volunteers in its partner coalition of more than 100 professional societies, major corporations and government agencies. Together we meet a vital need: introducing students, parents, and educators to engineering, engaging them in hands-on engineering experiences, and making science and math relevant. The foundation and coalition are actively putting the E in STEM. For more information, visit discovere.org.