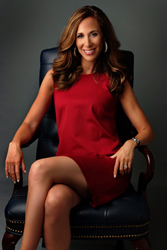 "Five years of inspiring and empowering women to get off the fence." – Arianna Huffington, Founder The Huffington Post
Montreal, Quebec, Canada (PRWEB) February 25, 2014
/on the fence/ - Adj. undecided about something. not able to make a decision. stuck. immobile. wavering. wishy-washy. torn. uncommitted. waffling. hemming and hawing, hesitant.
After spending the last five years empowering women around the globe to achieve their personal and professional goals as the Founder and Editor-In-Chief of the Award-Winning Women's Lifestyle Brand Women On The Fence® (syndicated to over 2 million monthly readers) and the Weekly Parenting Correspondent on Global TV, Erica is bringing her inspiring message to the world with the global launch of the Get Off the Fence Movement.
"This movement is about holding yourself accountable to your goals, and motivating others to do the same," says Erica Diamond. "It's time to Get Off the Fence! It's time to make up or break up, come out of the closet, stop procrastinating, start your own business, get healthy, volunteer, stop bullying. Whatever it is holding you back, you are taking the pledge to Get Off the Fence."
After just 4 weeks of launching, the inspiring Get Off The Fence Movement video had been viewed over 55,000 times on YouTube.
THREE EASY STEPS:
Step 1: Take the pledge to Get Off the Fence
Step 2: Download the free app to enter and track your goals. Build your Off the Fence action plan immediately.
Step 3: Share your POSTER on our Facebook community‬‬‬‬‬‬, or on Twitter using hashtag #GetOffTheFence. Here you will connect with other fence jumpers, In Real Time, all the time. Because sharing your story is the first step to taking the leap.
WHAT THE MEDIA AND CELEBRITIES ARE SAYING ABOUT ERICA DIAMOND:
"Four years of inspiring and empowering women to get off the fence." - Arianna Huffington, Founder The Huffington Post
"Always inspiring presence online." - Christy Turlington Burns
"I love your voice. I love your blogs." - Brooke Burke
"Erica Diamond has been pushing fence-sitters off their comfortable yet confusing – perches." Lance Ulanoff, Editor-In-Chief Mashable
"Erica embodies one of the greatest things about women: multi-tasking. Women should draw inspiration from her: Be bold!" - Sarah Ferguson, Duchess of York
"Erica Diamond is impacting women everywhere and making a huge difference in people's lives." – Soledad O'Brien, anchor CNN
"Three years of elevating your voice, key issues and all who read the blog!" – Cory Booker, American Politician
"Beautiful blog, beautiful woman." – Mariel Hemingway
Erica Diamond is sharing her powerful Get Off the Fence Movement message with the world as influencers and celebrities have jumped on board to share their On/Off The Fence posters and stories of inspiration.
ABOUT ERICA DIAMOND:
Erica Diamond is the leading Women's Expert in Lifestyle, Entrepreneurship, Parenting and Balance. Erica Diamond, Certified Life Coach, is the Founder and Editor-In-Chief of the Award-Winning Women's Lifestyle Brand WomenOnTheFence.com® (syndicated to 2 million monthly readers), Weekly Parenting Correspondent On Global TV, Award-Winning Entrepreneur, Speaker, Spokesperson, and the Author of the popular women's entrepreneurial book, 99 Things Women Wish They Knew Before Starting Their Own Business.
Erica Diamond has been named FORBES 25 Most Influential Women In Business on Twitter, FORBES Magazine's Top 100 Sites for Women, and Digital Personality of the Year nominee. Erica Diamond has also been named to the coveted list of The Top 20 Women in Canada, was the Spokesperson for National Entrepreneurship Day and is a The Huffington Post contributor.
To read more about Erica Diamond, visit Erica-Diamond.com.