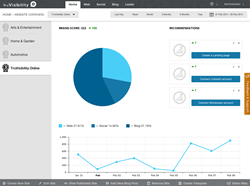 Boca Raton, FL (PRWEB) February 25, 2014
TruVisibility, LLC, a provider of online marketing products and services, is pleased to announce the general customer availability of their online marketing platform, TruVisibility.
TruVisibility is the first solution of its kind that requires no programming or marketing experience to build a successful web presence. It is an all-in-one online marketing solution that is designed to make a business owners life easier by providing the best actions to take to improve your online presence.
Included with all packages is a website builder that offers attractive templates to choose from, and easy-to-use drag and drop widgets, that allows you to build a professional website in minutes. With eCommerce capabilities that allow you to sell products or services online, your online store can be and running in hours.
TruVisibility also integrates with popular social media and blog platforms to give users a centralized tool to post and respond to their customers. Combined with business intelligence tools that make recommendations on how to improve the websites visibility in search engines and how to increase social media and blog presence, TruVisibility is the complete web marketing solution. It provides business owners with business intelligence as well as recommendations on the optimal online marketing strategy.
"What makes TruVisibility different from other marketing solutions available today is our solution connects multiple aspects of inbound marketing and it provides intelligent, actionable feedback to help businesses get found online. TruVisibility makes it easy and affordable for a business to have a website and manage their social media and blog," stated Andrea Boyle, Director of Marketing of TruVisibility.
TruVisibility is now available at http://www.TruVisibility.com. With multiple packages to choose from, users can sign up for a Free version that doesn't expire, or for a few dollars a month, upgrade to one of the paid packages that provides more functionality then most hosting companies offer, including connecting personal domain, eCommerce, social media management, and much more. Paid for packages range from $5.99 a month to $29.99 a month, making TruVisibility an affordable solution for businesses anywhere.
About TruVisibility:
TruVisibility, LLC. is a provider of online marketing products and services that focuses on growing and improving a businesses' web presence. With solutions for small businesses and marketing agencies, TruVisibility simplifies and centralizes inbound marketing. For more information visit, http://www.TruVisibility.com.