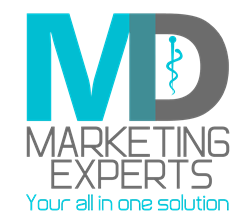 Flushing, New York (PRWEB) February 25, 2014
MD Marketing Experts believes that making the first impression is one of the most important parts of any business. With the digital world expanding rapidly, this is often a person's website or a Google search result, and may happen long before the potential client ever walks into a brick and mortar business location.
MD Marketing Experts recently relaunched their own website to create a more modern, easy-to-navigate, informative website. They are a boutique firm specializing in health and medical marketing services for physicians, surgeons, nutritionists, spa owners, and supplement affiliates. Because healthcare is so important, most people will research on the internet extensively before deciding on a new provider.
MD Marketing Experts makes it their goal to not only create beautiful, professional websites that are easy to use, but also get them listed in search engines and marketed in a way that creates a cohesive online and offline presence. They offer a full range of traditional and digital marketing services including website design, graphic design, brochures and business cards, search engine optimization and pay-per-click advertising, social media management, branding and business consulting, photography and videography, and much more.
Steven Panzella, the president and founder, "No other marketing company offers my health, fitness, and marketing background. Period!" He is a serial entrepreneur who ran his first company at 17 years old and earned his financial advisor license at Morgan Stanley in 1998. He later created the groundbreaking, world's first scientifically proven relaxation drink (miniCHILL) which gained recognition of The New York Times, Wall Street Journal, and NBC. His combined entrepreneurial, business, and marketing experience allow him to relate personally to the needs of business owners and make him strive even harder to increase quality and ultimately, their bottom lines.
As tax season comes into full swing, many people are now realizing that their financial situations may not be as profitable as they had hoped, and it's prime time to start addressing their business marketing and branding needs. MD Marketing Experts is offering a free audit to help business owners pinpoint where their weaknesses are and how to start correcting them. This is the first step to increasing any practice's bottom line.
To see examples of recent digital facelifts that MD Marketing Experts has completed, visit their Case Studies Collection. To request a free audit or get started with a brand makeover, call 888-428-7999.
Steven Panzella, President
MD Marketing Experts
888-428-7999