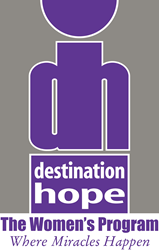 Part of the healing process during recovery from addiction is learning to love the person inside, flaws and all.
Fort Lauderdale, Fla. (PRWEB) February 25, 2014
In February, drug rehab for women is taking a popular theme – love – and applying it to addiction recovery. Destination Hope: The Women's Program, a popular and respected gender-specific drug rehab facility in south Florida, is focusing on self-love this month. Part of the healing process during recovery from addiction is learning to love the person inside, flaws and all. Here are ten ways for women in rehab to show themselves love this February.
1. Stop negative talk.
Women in rehab should stay positive. Don't use put downs or use negative names. Make a conscious effort to focus on the positive instead of the negative. Focus on what can be done versus the negative of what has been done.
2. Set deadlines for your goals.
Goals are wonderful for women in recovery, but they only work if a woman holds herself accountable. Make small, short-term goals to build up confidence and self-esteem. Drug rehab for women suggests setting deadlines for goals and checking them off when complete!
3. Believe in the ability to recover.
Anyone can recover successfully from addiction if they have the self-awareness to recognize the problem and the determination to succeed. Everyone is capable of recovery, no matter how strong the addiction may seem.
4. Help others.
Doing for others builds a sense of accomplishment and belonging. Find ways to volunteer or support a community in need. Maintaining responsibilities to others can help a women in rehab stay on track.
5. Unplug.
Without realizing it, women in rehab can develop a negative self-image by comparing ourselves to what we see on TV and on the Internet. Drug rehab for women programs often recommend unplugging from all media occasionally to regain perspective on life without external influences.
6. Give compliments
Compliments go a long way to building self-esteem. Hand out compliments at least once a day to those in your network. Remember, what goes around comes around.
7. Create a loving environment.
The facilities at drug rehab for women are designed to put clients at ease; they are clean and comfortable to help women focus on their recovery. Do the same in your home environment by getting rid of the clutter, the people, and the thoughts that bring negativity into the environment.
8. Look inside.
The body knows when it's hungry, tired, full, or thirsty. Pay attention to these internal triggers and flags to prevent a high-risk relapse situation.
9. Go on a date.
And not the romantic kind! Spend some time alone going out for coffee or lunch. Women in rehab and in recovery often forget to treat themselves to a nice meal or a new pair of shoes. Recovery can be hard and small treats along the way can make it easier to stay motivated.
10. Forgiveness is essential.
Drug rehab for women helps women come to terms with the past and gives them the tools to move forward into a healthy future. A willingness to forgive past wrongs and focus on changing behavior for the future can help clients show themselves love!
February may put the spotlight on love, but for women in recovery from addiction, showing themselves love is something that should happen year-round.
###
Destination Hope: The Women's Program is a full service addiction, drug, alcohol and dual diagnosis drug rehab for women treatment facility in Florida for women suffering from substance abuse and mental health issues. Treatment programs include: drug rehab, alcohol rehab, outpatient rehab, dual diagnosis therapy, family therapy programs, prescription drug rehab aftercare and women's health programs to treat depression, anxiety and eating disorders. Destination Hope: The Women's Program and its partner program, Destination Hope, provide gender specific therapy in an intimate treatment environment. For more information on the center or substance abuse and addiction treatment, please go to http://www.womensdrugrehab.com.