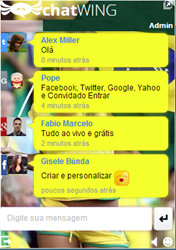 New York, NY (PRWEB) February 22, 2014
Chatwing already has a lot of social login methods. But now, it's further reinforced when they added three more login options to it. Now chatters can not only use their Facebook, Twitter, Google, and Yahoo accounts, they can also use their Tumblr, Instagram and Vkontake accounts as well. This is to cater the needs of the growing number of users who from different social media networking sites and make them join the chat room app much faster.
Because of the multiple login methods from different social media, Chatwing chat software has included in the chatter's avatar a logo that shows which social networking site they logged from. This function makes it easier for the user to track down where his/her chatters comes from and identify who are his/her frequent visitors.
Chatwing has also recently added the social sharing function that allows the chatters to socially share the chatroom their in into their respective social media. For now, the chatters can Like, Follow or Share for Facebook; Share, Follow, Mention or Hashtag on Twitter; Plusone or Follow on Google; Share or Follow on Tumblr. Through this it'll be easier for them to share the chat room software and invite more people to chat with them.
Along with these, Chatwing has continued to developed the chat software's other functions. The tool has been under constant updates and its latest bugs have been resolved. Now, it's accessible to everyone through their mobile phones as the company finally released the Android version of the chat software.
About Chatwing.com
Chatwing.com is a company that has brought innovation to the modern chat widget. Operating for more than five years now, Chatwing and its team of developers have dozens of ideas ready to be introduced to the public. The Chatwing chat app is an easy-to-use online tool that can help web users interact with each other and can also generate continuous traffic.Chatwing will always be a freemium application for everyone.