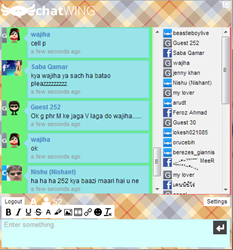 Boston, MA (PRWEB) February 20, 2014
Though very similar to its widget counterpart, the app has its own flavor which makes it applicable for mobile phone use. New users can easily install it from GooglePlay and instantly use it afterwards. They can login using their social media accounts like Facebook or Twitter so there's no more need to register. However, if they plan on creating a chatbox of their own, then they'll need to do so as it requires a Chatwing chat software account for one to be able to create their own chatbox.
At the start, the user is given two chatboxes to chat into, Default Chatbox and Chatwing, both of which are found in the General tab. The other tab, Bookmark, is where the user can save the specific chatboxes he/she wants to visit again. To search for more chatboxes, the user will need to use the Search bar.
Creating a chat box will give the user some control to manage it that will allow him to delete any messages inside it. The said chatbox can also be shared to many social networking sites and applications which will be a big benefit for the user if he/she plans on inviting more people.
Chatwing is still in the middle of improving this chat app software so the users can expect the app to be better in terms of chatting performance as well its capability to be easily modified – a trait that mostly defines a Chatwing chatroom. The same as its widget counterpart, the app can also be availed for free.
About Chatwing.com
Chatwing.com is a company that has brought innovation to the modern chat widget. Operating for more than five years now, Chatwing and its team of developers have dozens of ideas ready to be introduced to the public. The Chatwing chat app is an easy-to-use online tool that can help web users interact with each other and can also generate continuous traffic.Chatwing will always be a freemium application for everyone.