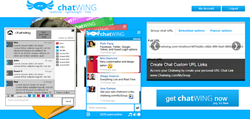 Newark, NJ (PRWEB) February 21, 2014
Chatwing added three new login options for its users, bringing the total from six to nine. There's still the original Chatwing and Guest option but now, chatters can use their social media accounts from Facebook, Twitter, Google, Yahoo, Instagram, Tumblr and Vkontakte to join in. As always, once they've logged in using an account from one of their social media accounts, their profile pictures will also act as their avatars in the chat room software. It will also show in the website chat room what social account they're currently using. This makes it easier for everyone to identify who they're chatting with as well as determine where they came from.
The new function, social sharing buttons, will allow the chatter to share the chatroom through various social networking sites easily. It's already an activated function by default but if the user wants to disable it or change the sharing settings, he/she will need to purchase it as it is a Chatwing premium feature. As of now, they can share it to Facebook, Twitter, Google and Tumblr. This is another way for the user to be able to share his/her chatbox with everyone.
As more people join the Chatwing chat software community, its developers continue to improve it. Now that it has already been released on Android, users can expect even more improvements to the chat software.
About Chatwing.com
Chatwing.com is a company that has brought innovation to the modern chat widget. Operating for more than five years now, Chatwing and its team of developers have dozens of ideas ready to be introduced to the public. The Chatwing chat app is an easy-to-use online tool that can help web users interact with each other and can also generate continuous traffic. Chatwing will always be a freemium application for everyone.