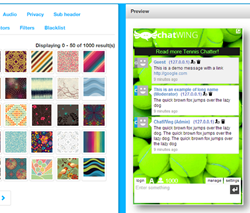 New York, NY (PRWEB) February 23, 2014
The features include the multiple login methods that Chatwing has. Most of these require the users the use of their social accounts like Facebook and Twitter. Since this action completely bypasses any registration process, it's pretty much easier for everyone to join.
Another benefit this feature gives to the users is that the chatbox will show them from what social networking site their chatters came from. Through that one can determine from which social media most of the chatters are coming from. This also makes it easier for him to recognize the chatters as their profile images will also apply as their avatars.
Chatwing chat software users are also able to share their chatboxes to others through the social media sharing functions that Chatwing recently added. These buttons are activated by default and allows everyone to Like the website chat room on Facebook, Hashtag it on Twitter and more. This opens up a brand new opportunity for the users to further share their chatrooms to everyone and potentially increase the number of incoming chatters.
The developers are still improving the capabilities of the chat room software regarding social connectivity until now, in hopes of providing a better service to its users. Currently, they have made Chatwing available on Android which is a very big leap for them since now they now have a brand new target audience – the mobile phone users. This app is available on GooglePlay and it's also free.
About Chatwing.com
Chatwing.com is a company that has brought innovation to the modern chat widget. Operating for more than five years now, Chatwing and its team of developers have dozens of ideas ready to be introduced to the public. The Chatwing chat app is an easy-to-use online tool that can help web users interact with each other and can also generate continuous traffic.Chatwing will always be a freemium application for everyone.