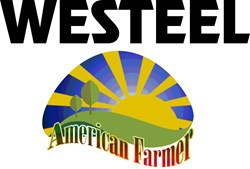 Winnipeg, Manitoba (PRWEB) February 21, 2014
Westeel announced today that they will be featured in an upcoming episode of American Farmer airing later this year on RFD-TV.
This episode of American Farmer will explore Westeel, a global manufacturer of steel storage products for a wide-range of on-farm and commercial storage solutions for the agricultural industry.
Viewers will be educated on Westeel's agricultural storage products, which include: grain bins, hopper tanks, and smooth-wall hoppered bins for seed and fertilizer.
"We are thrilled to be involved with the American Farmer series. It is exciting to be able to participate in a project that promotes agriculture in America as well as have the opportunity to educate the agricultural community throughout the United States. We are eager to share our message and successes as a company in North America," said Ryan Baldwin, Vice President of Sales and Marketing at Westeel.
Established in 1905, today Westeel supplies more than 30 countries in addition to North America.
"The ingenuity behind Westeel's designs, engineering and manufacturing is truly amazing," said Charlie Cowan, producer for American Farmer. "Their storage solutions are built to withstand extreme temperatures, and are made from superior steel grades, giving their products strength, durability and longevity."
About Westeel:
Communities around the world depend on food and water for survival – securing these vital resources is essential. Since 1905, Westeel has focused not only on what they build, but on what they protect and who they serve.
For more information, visit: http://www.westeel.com or call 888-463-6012.
About American Farmer:
American Farmer is a breakthrough program on a mission to showcase the latest advancements in agriculture and farming. From seed to harvest, livestock and more, our producers have traveled the country covering the people, places and issues impacting all areas of farm country.
American Farmer airs Tuesdays at 8:30am ET on RFD-TV as well as Tuesdays at 12:30 p.m. and Saturdays at 1:30 p.m. ET on FamilyNet.
For more information visit: http://www.AmericanFarmerTV.com or call (866) 496-4065.
Media Contact:
Charlie Cowan, Senior Producer / American Farmer
(866) 496-4065 x 875 / Charlie(at)AmericanFarmerTV(dot)com