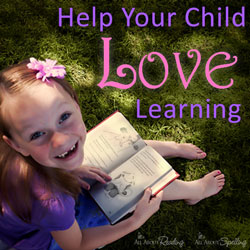 "Helping your child love to learn may not be as hard as you think."
Eagle River, Wisconsin (PRWEB) February 24, 2014
As Valentine's Day sentiments fill the air, All About Learning Press, Inc. is turning its attention to love—most specifically, the love of learning. Author and curriculum developer Marie Rippel recently released a blog post outlining five tips to Help Your Child Love Learning.
"Helping your child love to learn may not be as hard as you think," says Rippel. She suggests engaging your child's senses, setting realistic expectations, making learning fun, planning for success, and being positive. "Nothing puts a damper on a kid's spirit like failure," she says. "Children need to have a reason to want to keep moving forward. Can you imagine a learning environment in which your child is excited to push the boundaries? When a child feels secure and confident in his learning environment, he'll be more motivated to learn."
The mission of All About Learning Press, Inc., publisher of the award-winning All About Reading and All About Spelling programs, is to help parents teach their children to read and spell successfully, so every child can reach his or her full potential. The programs are based on the Orton-Gillingham instructional approach and teach children the way they learn naturally—through sight, sound, and touch. Students use letter tiles, flashcards, fluency practice, comprehension exercises, activities, and 100 percent decodable readers, while the lightly scripted "open and go" lesson plans do not require any previous teaching experience. The programs also come with lifetime support and a 100 percent money-back guarantee.
For more information about the All About Reading and All About Spelling programs, visit http://www.allaboutlearningpress.com.