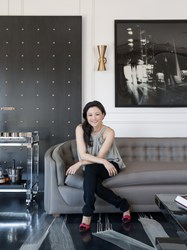 Often as a part of telling the whole story or the story in itself, my portraiture work carries the same natural feeling as my interior photographs.
San Francisco, CA (PRWEB) February 21, 2014
Due to the growth of online content and social media, the way designers are perceived online is just as important as how they are perceived in-person. A headshot is a powerful tool to connect and personalize designers to their clients, however traditional headshots are no longer the industry standard. Headshots are now capturing a bigger picture beyond appearance, showing design professionals in a styled but natural environment and enhancing the firms brand as well. This allows for flexibility across a variety of mediums and platforms and doesn't appear contrived or forced.
Editorial Photographer David Duncan Livingston is offering one-hour portrait photography sessions on March 7th, for individual designers seeking the current best practice for lifestyle headshots in the industry. Livingston consistently creates portraits that are welcoming, professional and layered with meaning.
Shooting in vignette settings offered by the Tête-a-Tête Lounge and other selected San Francisco Design Center showrooms, you will work collaboratively with David to create your editorial portrait, one that is framed by elements of design that reflect your brand filter. David brings a multi-discipline approach to his portraiture work by marrying art direction, photography, styling and brand awareness.
The one-hour photography session is $425.
SFDC and Tete-a-Tete Members will receive a $75 discount.
The deliverables will be three retouched portraits in high-resolution format.
Only five sessions are available on March 7th.
To purchase tickets, visit: http://editorial-portraits.eventbrite.com.
About Coupar Consulting and the Tete-a-Tete Membership:
Coupar Consulting is a San Francisco & Los Angeles based full-service business consulting firm specializing in building successful interior design firms & design businesses.
Coupar Consulting believes that people thrive when an organization gets strategic about how one runs their business. Providing quick solutions, grounded with long-term visions and goals, and analyzing how the firm can operate efficiently. The end result is transformative and the work becomes satisfying.
The Tete-a-Tete Membership provides resources and talent to grow businesses in a way that is flexible and tailored to designers needs. Scale your business to any capacity, based on the projects that fall before you.
The perfect middle point between working from home and taking on the financial responsibility of a personal office and staff, you can now manage the active and idle times of business in a way that is efficient and fluid.
Members will have access to the Tete-a-Tete Lounge, the premier destination in the SFDC to work and meet with clients, and a hand-picked team of experts offering you an elevated level of service to help you accomplish any project that at one time felt beyond your reach.