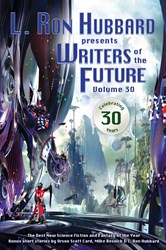 Hollywood, CA (PRWEB) February 20, 2014
The L. Ron Hubbard presents Writers of the Future Volume 30 will be available for the first time this year in trade paperback format and will also include a short story from L. Ron Hubbard's library, one from Orson Scott Card and another from Mike Resnick, both judges of the contest.
Inspired by best-selling author L. Ron Hubbard, the merit-based Writers of the Future Contest was initiated 30 years ago to discover and encourage talented beginning writers of science fiction and fantasy. The volume in the past included the twelve winning writers stories and an essay on writing from the library of L. Ron Hubbard and another from a selected judge.
Each year the contest awards all winners with cash prizes, free travel and accommodations, a week-long professional workshop, and guaranteed publication in their best-selling annual speculative fiction anthology, L. Ron Hubbard Presents Writers and Illustrators of the Future. Grand prize winners for writing and illustration will also be announced at the annual awards ceremony.
Former Writers of the Future Contest winners listed on the New York Times bestsellers list include: Jo Beverley, Nancy Farmer, Karen Joy Fowler, Sean Williams, Dave Wolverton aka David Farland, Patrick Rothfuss, Lisa Smedman, Tim Myers, Tobias S. Buckell, Eric Flint, Elizabeth E. Wein and Dean Wesley Smith.
Well-known contest judges include multiple Nebula and Hugo Award winners and finalists such as Kevin J. Anderson, Orson Scott Card, Larry Niven, Nnedi Okorafor, Jerry Pournelle, Tim Powers, Robert J. Sawyer, Mike Resnick, and Dave Wolverton to name a few.
For more information about the contest, please visit the website at http://www.writersofthefuture.com.