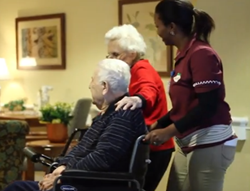 We are moving away from the old institutional-like hospital model of care for our nursing home residents to a very individualized, homelike environment. I believe this is the way of the future.
Clifton Park, NY (PRWEB) February 21, 2014
Longer life spans are placing greater demands on the healthcare industry along with the rise of electronic files, digital devices, and mandates for key initiatives like Electronic Medical Records (EMR). The trends emerging in today's era of Connected Healthcare are redefining clinical intelligence and patient experience. One prime example of a local mid-market facility embracing this new model of care is Baptist Health System of Scotia, NY.
"We are moving away from the old institutional-like hospital model of care for our nursing home residents to a very individualized, homelike environment," affirms Tim Bartos, President and CEO of Baptist Health. "I believe this is the way of the future."
Baptist Health, which was awarded two NYS HEAL (Health Care Efficiency and Affordability Law) grants, has moved full steam ahead in its 52-acre expansion project that included last summer's opening of a newly constructed Assisted Living Campus, Judson Meadows. As construction began, Baptist engaged Annese to address its technical environment from the ground up and establish a state-of-the art Cisco Unified Communications platform as the base networking foundation for which voice, video, and wireless could operate harmoniously.
"Baptist Health's IT team is relatively small, but our vision for the future is rather grand," notes Tony Alotta, Administrator at Baptist Health System. "Our IT system, with the help of Annese, will be fully integrated and interconnected so that no only is there redundancy and back-up between buildings, but the services will all be able to talk to one another."
Advanced services integrated over a secure wireless platform is enabling Baptist staff to be more efficient, patients and residents to be more mobile, and the physical facility to be more secure.
One standout security feature that Judson Meadows is now able to offer which sets it apart from surrounding senior living communities, is a video-enabled remote entry system. Once the inner vestibule doors are locked at night, a resident can see a video image of their visitor over their wireless phone, and then punch in a code to allow that visitor entry into the facility after-hours. The security department is also equipped with a wireless phone that can accept those video calls.
"Baptist Health is a growing regional player in its marketplace," said Jeremy Annese, Account Manager at Annese & Associates. "As it continues to grow, its IT needs grow, and the strategic investments it is making in technology grows. By investing in technology with Annese, Baptist is able to offer residents and their families the advanced services needed to stand apart in this competitive market space."
Baptist Health is placing advanced collaboration technologies at the helm of its care continuum and is a shining example to the Capital Region community that residents can have a rich and rewarding experience that is as close to home as possible.
Watch a video case study of this project here.
About Baptist Health System Foundation
Baptist Health System Foundation strives to provide continuous programs for our senior community and their families that enrich lives and provide ongoing education and support. Additionally we provide scholarship programs for those looking to enter, or further, their careers in healthcare. Our goal is to improve quality of life for our residents, their families and the entire senior community through innovative programs and a commitment to the highest quality of care.
About Annese & Associates, Inc.
Expertise. Relationships. Innovation. Throughout the past four decades, these principles have established the foundation upon which Annese & Associates has emerged as the trusted adviser to our customers, partners, and communities. With a full-circle approach to integrating communications systems, Annese wraps professional and managed services around Infrastructure, Collaboration and Data Center Virtualization solutions. Guided by our services methodology, we design an end-to-end IT experience for our clients, implementing the tools of today and administering a plan for tomorrow. Our business is the art, science, and passion of connecting devices to networks, people to people, and ideas to action.
– ### –