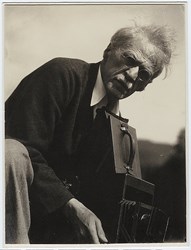 "Without Stieglitz, there would be no Georgia O'Keeffe as we know her and the entire history of Modernism would be much poorer."
Santa Fe, New Mexico (PRWEB) February 20, 2014
The Georgia O'Keeffe Museum is proud to present a tribute dedicated to Alfred Stieglitz marking the 150th anniversary of his birth. A noted photographer, publisher, gallery owner and modern-art pioneer as well as mentor, promoter and husband of Georgia O'Keeffe, Stieglitz was a remarkable man who left an indelible mark on the history of art. To celebrate his contributions, the Georgia O'Keeffe Museum will preview the short film, Looking for Mr. Stieglitz, by Steve Zeifman, followed by a conversation on Stieglitz's life and legacy on March 2, 2014 from 3:30-5:00pm.
"Even during his lifetime, Stieglitz was a near mythical figure whose importance is almost impossible to overstate," said Cody Hartley, Georgia O'Keeffe Museum director of curatorial affairs. "Without Stieglitz, there would be no Georgia O'Keeffe as we know her and the entire history of Modernism would be much poorer."
Following the film screening, curators and filmmakers will be on-hand to discuss Stieglitz's influence including Cody Hartley; Kate Ware, filmmaker and Curator of Photography at the New Mexico Museum of Art; as well as filmmaker Steve Zeifman of 291 Film Partners.
Looking for Mr. Stieglitz is a 2013, 15-minute film that follows an episode in Stieglitz's career. Filmed in New Mexico and created by local filmmakers, the film stars Rachel de La Torre and Tone Forrest.
The Alfred Stieglitz tribute will be held from 3:30 to 5:00pm at the Georgia O'Keeffe Museum's Education Annex located at 123 Grant Avenue. Cost is $8 for the general public, $5 for Museum Members and Business Partners. Reservations are suggested, please call 505 946 1039 or register online at http://www.okeeffemuseum.org.
###
ABOUT GEORGIA O'KEEFFE MUSEUM:
The Georgia O'Keeffe Museum is dedicated to the artistic legacy of Georgia O'Keeffe, her life, American modernism, and public engagement. Located in Santa Fe, NM, the Museum's collections, exhibits, research center, publications and education programs contribute to scholarly discourse and serve diverse audiences. The largest single repository of the artist's work in the world, it is the only museum in the world dedicated to an internationally known American woman artist and is the most visited art museum in New Mexico.