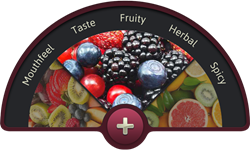 This app is a godsend — you can swirl with one hand while spinning through the flavor wheel with the other...
Napa, CA (PRWEB) February 24, 2014
Wine with Friends is a free app, available through the Apple App Store. This intuitive app captures your wine drinking experience in an innovative new way. A flavor wheel eliminates the need for words by making it easy to describe the unique flavors you taste in each wine through common food adjectives, which are presented in an a simple, image driven format. The app is comprised of three key elements: Discover, Share & Compare, and Wine Library.
The Discover feature makes it easy to detect and recognize subtle tastes and smells with over 150 pictures to choose from. Flavor and aroma wheels are culturally relevant with images that reflect native cuisine. The app is currently available in English, Mandarin and Dutch and will support additional languages this June.
The Share & Compare feature allows a user to easily share wines within their social network and compare flavors via the tasting room, where users can see, in real time, the group's assessment of the most common aromas and flavors.
The Wine Library feature keeps track of a user's wines, including detailed information on each bottle and user defined wine notes and flavors. Users can track favorite bottles and earmark future discoveries.
"This app is a godsend — you can swirl with one hand while spinning through the flavor wheel with the other. The idea behind the app is that you can share tasting notes with friends and try wines your friends suggest. For me, it's all about the flavor wheel."
– Louis Villard, Zester Daily
Areni-1, Inc is also excited to announce that Wine with Friends has been awarded the prestigious Gold ADDY® Award for 'Best Mobile Application'. The American Advertising Federation presents regional awards to the best campaigns, websites and applications from around the country.  Wine with Friends was presented with the award on February 15th, 2014 at the ADDY® Awards ceremony in Nashville, TN. 
######
To learn more please visit: winewithfriendsapp.com.
To download the app from the iTunes App Store: bit.ly/gowineapp.