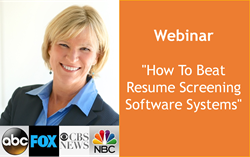 Taleo is my enemy.
Denver, CO (PRWEB) February 21, 2014
Interview Academy is offering a new webinar, "How to Beat Resume Screening Software", to help people searching for a new job avoid the heart ache of today's applicant tracking systems. These systems such as Taleo are seen as highly valuable in the mind's of HR professionals. These systems are designed to cull down thousands of applications down to the top 10 in a matter of seconds. However, the cost in human capital is enormous. Practically every job seeker has their own horror story about getting blocked from a perfect job by corporate applicant tracking systems.
It's been affectionately referred to as the "black hole". In a recent blog post on ramble.com, the author, Christopher Harris, shared "The Top 6 Secrets ATS Companies Don't Want You to Know.". Mr. Harris cited the faulty underlying principle of keyword parsing as the #1 secret. He says, "Imagine you have two candidates standing side by side. To determine which person to hire, you wouldn't ask them to list the keywords that make them qualified. Instead, you'd ask them about their job skills, their career history and what type of work environment they thrive in — questions that give you a far better understanding of who the candidate is, and what he or she offers."
"Gaming" these ATS systems is big business, too. Google "how to optimize a resume for Applicant Tracking Software," and the search engine returns more than 100,000 results. In the early days, it was fairly easy to "game" the system by loading your resume with keywords. But since then companies like Taleo and others have huge budgets to design new algorithms in an effort to "game" you back. Even so, there are products out there like Resunate that says it can scrub a resume with a job description to give you a better chance at beating the ATS.
Unfortunately for job seekers, the ATS systems have become a necessary evil despite their protest. However, Gail Palubiak, CEO & founder of Interview Academy, has discovered the first successful solution to help candidates directly connect with the hiring decision makers regardless of the use of an ATS system. Ms. Palubiak will be sharing her strategy in a free live webinar "How to Beat Resume Screening Software". She will outline some simple yet powerfully effective steps that anyone can use to get beyond the limits of online applications. This will be a highly popular webinar and space is limited so anyone who is interested is encouraged to register now.
Click here to register for the free webinar.
About Interview Academy
Think of it as Interview 401. Interview Academy provides higher education designed to help people regain their self-confidence in today's competitive job market. Throw away those old-school, conventional interviewing tactics that are inadequate in today's hyper-competitive world. Enter the modern world with Interview Academy.org. Interview Academy will help you ace your next job interview and land your dream job through interview development and effective resume strategies. For more information, go to our website at http://www.interviewacademy.org.
Gail Palubiak can be reached at gail(at)interviewacademy(dot)org.