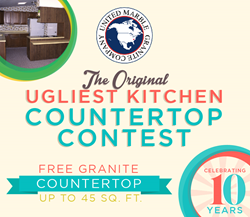 (PRWEB) February 24, 2014
In just a few weeks, United Marble and Granite will announce the winner of their annual contest – The Original Ugliest Kitchen Countertop Contest. Homeowners will not want to miss out on this fabulous opportunity to win the grand prize, and should be sure to register today on the company website [http://unitedmg.com/ or via their Facebook page https://www.facebook.com/UnitedMG.
For many people, a dream kitchen is out of their reach, both financially and in terms of overall DIY know-how. This is especially true when it comes to durable, elegant granite countertops. Fortunately, United Marble and Granite has a fantastic solution to helping one lucky homeowner get started: the company is pleased to announce that it is time once again to dole out epic kitchen-related prizes for their annual contest. The Company is offering up to 45 square feet of granite countertop to the winner of their yearly Ugliest Kitchen Countertop Contest – a tremendous value both in quality, financial savings, and overall added value to one lucky homeowner's kitchen.
How to Register
In order to be considered for this prize, homeowners will need to log on to the website and follow the instructions to submit a photo of their kitchen countertops. There is no purchase necessary to enter the contest, but entrants must live in the State of Maryland.
How the Winner Will Be Chosen
Instead of trying to determine whose countertop they think is the ugliest, United Marble & Granite has decided to leave the decision in the hands of their Facebook followers. That's right! Whoever's kitchen countertop gets the most 'likes' for being the ugliest will be the winner. This does mean, however, that the photos submitted will be posted on their Facebook page, and could be used in future advertising campaigns.
Although the odds of winning will be determined by the number of entrants, homeowners still have a good chance of receiving new granite countertops for their kitchen. Log on today for the chance to win new, luxurious granite countertops. This could be the jump-start homeowners need to do a complete kitchen remodel, getting the ultimate kitchen of their dreams, thanks to one local company – United Marble & Granite.