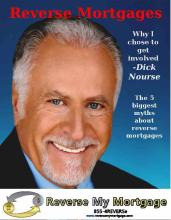 Denver, Colorado (PRWEB) March 07, 2014
For many senior homeowners, the cost of living after retirement can be overwhelming. From medical expenses, mortgage payments, and the general cost of living overall, many retirees are out of options for a source of income. However, one way many elderly homeowners are able to achieve financial security during their golden years is through reverse mortgages in Denver. This is a unique type of home loan that allows homeowners to receive part of their home's equity into cash. But, before seniors decide to go this route to obtain a greater degree of financial security, they must fully understand the implications and requirements of reverse mortgages. RMM is a company dedicated to helping seniors understand how the whole process works and how they can benefit homeowners. To further their mission, they recently announced that they would be offering complimentary financial consulting services for senior citizens that are playing around with the idea of a reverse mortgage in Colorado.
RMM is dedicated to helping seniors obtain financial security.
Not knowing the rules of any mortgage system could cost homeowners thousands of dollars in lost benefits. This new consulting service, which is completely free, allows homeowners to educate themselves regarding reverse mortgages in Denver with the assistance of experts that can help seniors maximize their revenues. The professionals at RMM know the rules and stipulations that accompany medical, social security, and other issues that pertain to senior citizens.
The three reasons to actively pursue a reverse mortgage in Colorado.
Many seniors are hesitant to sign up for a reverse mortgage because they have heard myths about these mortgages from their friends, family members, and even their co-workers. RMM is not only dedicated to educating senior citizens about how reverse mortgages work, but their benefits. There are three main reasons RMM recommends this alternative for senior citizens. First, it can provide senior citizens a stable monthly income. Second, it can be paid out in a cash lump sum. And lastly, it can eliminate monthly house payments that may be eating up a senior citizen's budget. But, in order for senior citizens to take advantage of these benefits, they must be at least 62 years old, live in their home, continue to maintain the property, and participate in an informational counseling session. To find out more about their educational tools, as well as RMM's new counseling services, visit http://www.mortgagereversecalculator.com/.