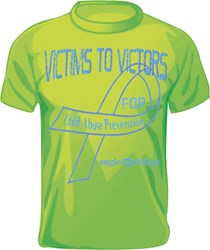 Hersey, MI (PRWEB) February 21, 2014
As Child Abuse Prevention Awareness Month approaches, families, schools and communities are coming together to ensure that children are safe. To help accomplish this, Eagle Village has partnered with the athletic department at Clare Schools to encourage education, awareness and action when it comes to keeping children safe. They want to change tomorrow together by helping turn Victims to Victors.
The Clare vs. Gladwin basketball game will be on February 27 at 7:30pm in the Clare High School gym. The school and Eagle Village encourage their fans, students and staff to wear a Victims to Victors t-shirt throughout the day and at the games to recognize Child Abuse Prevention. Information will be provided on how to recognize the signs of abuse, what positive actions can be taken to help a child or family and encouragement to stay involved in your own children's lives. Custom Victims to Victors apparel is available by order form at the school and through Eagle Village. T-shirts will also be available at each game. Profits from these sales will go to Eagle Village programs.
John Ruggles, Director of Advancement at Eagle Village shared, "The local communities have embraced our efforts to get awareness of child abuse prevention out there. The Clare basketball game on February 27 will give us the opportunity to meet more of their community, share valuable information about how to be aware and safe AND have some fun in the process. We're excited to partner with Clare schools for this and future events."
Victims to Victors events are unique with pep assembly activities, videos, information and opportunities to get involved but the message remains constant – It is the highest priority that children in our communities are safe.
Please make this a state-wide partnership to turn Victims to Victors and Change Tomorrow Together. Attend this game and be part of the change.
Eagle Village is a non-profit family treatment center providing Intervention Services and Camps, Residential Treatment, Foster Care and Adoption services for all counties in Michigan. If you know of a family in crisis that may benefit from these programs contact Eagle Village at 231-832-2234 http://www.eaglevillage.org, Facebook or Twitter.