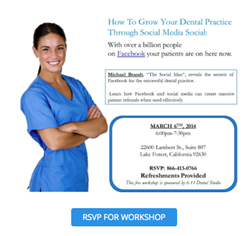 "For our dental lab, our success is dictated by the success of our clients. Our hope is that our series reflects our dedication to providing great information and services to our clients so that they can do the same for theirs as well."
Lake Forest, CA (PRWEB) March 04, 2014
6-11 Dental Studio, a premier dental lab based out of Lake Forest, CA, will be launching their brand new Education Series on March 6, 2014 with a workshop on "How to Grow Your Dental Practice Through Social Media." This will be the first in a series of 8-10 free educational workshops for members of dental office staffs and will be reserved for the first 30 confirmed guests.
"We're excited to be launching the series with such an important and often, virtually unknown topic such as social media for dental practices," said 6-11 Dental Studio Founder and President, Mike Hill. "For our dental lab, our success is dictated by the success of our clients. Our hope is that our series reflects our dedication to providing great information and services to our clients so that they can do the same for theirs as well."
Michael Brandt, "The Social Man" will be the guest speaker for the March 6th workshop. He will share secrets on how dental practices can utilize social platforms like Facebook to secure patient referrals. Guests can also expect to learn from the mistakes other dental offices make using social media and how best to create and implement engagement strategies to produce more leads.
"We invite the staff of existing clients as well as prospective clients to join us as we learn together," said Hill. "Our shared objective is to continually strive to improve the quality, service and value we deliver to the ultimate mutual customer, the patient. The 6-11 Dental Studio Education Series is one small strategy to help in that worthy effort."
Future topics of the series will include: customer service, sales, networking, direct marketing and practice referrals. Guests can expect to learn from leading industry experts and receive easily implementable strategies to take back to their practices.
To RSVP for the "How To Grow Your Dental Practice Through Social Media" workshop, visit http://www.611dentalstudio.com/workshops or call 866-413-0766.
If you'd like the opportunity to interview 6-11 Dental Studio President,Mike Hill, contact Heather Rose of Laurus Rose PR at (505) 227-7986 or 611dentalstudio(at)laurusrose(dot)com.