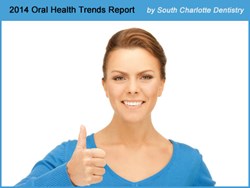 Charlotte, NC (PRWEB) February 22, 2014
Dr. James Wells of South Charlotte Dentistry has been in the oral health industry for 18 years. He has been a first-hand witness to the many trends and attitudes that have affected both the dental professional and patients in the past two decades. In his 2014 Report on Oral Health Trends, Dr. Wells has some good news to share with the Charlotte community.
"The biggest change in dentistry has been the effort towards preventative care," says Dr. James Wells. "When I first began to practice dentistry, extractions and creating dentures for people were routine. It's amazing how education and information can change individual's lives and the profession itself."
Dr. Wells believes that there are many factors that have caused people to keep their teeth for a longer period of time. First and foremost, he believes that learning about preventative care has had the biggest impact. But other trends like fluoride in the water systems and in toothpaste, new and improved products on the market, changing lifestyles and values, and mass market advertising all contribute to the very positive trend in oral health.
"In our world today, taking care of your teeth is a sign of good personal hygiene," says Dr. Wells. "Unfortunately or not, people will oftentimes judge individuals who are not taking proper care of their teeth."
In the past two decades, dental technology has evolved in so many ways adding to the comfort of the patient and the tools for the profession. "People know now that even in the most serious of cases, we have the technology to make their experience for the most part pain free and comfortable," says Dr. Wells.
Another factor in the positive state of oral health is that for at least the past decade, many dental professionals have emphasized the need for regular dental cleanings. These appointments typically scheduled for every six month have led to cleaner teeth in the long term, and the discovery of a tooth problem early on before the tooth has a chance to decay. All these things have added to a very positive trend that we see in oral health in general.
Dr. Wells says that the technology has evolved so much that he even has tools to detect oral cancer in his patients. Dr. Wells recommends that everyone be screened for cancer on an annual basis, especially those who have a history or smoking or chewing tobacco. According to the (ACS) the mortality rate for oral cancer is higher than the rates for cervical cancer, Hodgkin's lymphoma, laryngeal cancer, testicular cancer, thyroid cancer and skin cancer.
For more information regarding oral screening, call Dr. Wells at 704-759-0908 or visit the website at http://www.southcharlottedentistry.com.