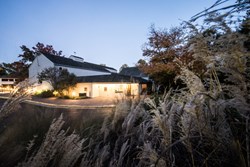 Vienna, Virginia (PRWEB) February 21, 2014
Tom Principato Band
Thursday, March 20, 2014 at 8 p.m.
$25
Tom Principato, former leader of the renowned 1970s East Coast band Powerhouse, has been credited by The Boston Phoenix as "a textbook example of heart-and-soul axe-wielding." Principato has won more than 20 Washington Area Music "Wammie" Awards, several of which are for Best Blues Male Vocalist and Artist/Group. The Tom Principato Band includes Jay Turner (bass), Joe Wells (drums), and Josh Howell (vocals, congas, percussion, and harmonica). Tommy Lepson also appears frequently as a guest with the band on organ and vocals. Their most recent album, Robert Johnson Told Me So, was released this past September. It contains a variety of sounds—everything from harmonica-heavy rock to reggae and funk infused tracks, as well as a locally inspired instrumental song, "22042 Falls Church, Virginia."
Video: Tom Principato Band – "I Know What You're Thinkin'"
Pearl and the Beard
General Admission
Special Guest:
Bombadil
Friday, March 21, 2014 at 8 p.m.
$22
The quirky trio that is Pearl and the Beard, made up of Jocelyn Mackenzie, Emily Hope Price, and Jeremy Styles, originally met at an open-mic night in New York City and are currently working on their third studio album. The band brings playfulness and experimentation to their shows, whether they're performing upbeat Americana in New York subway stations or penning medleys of Will Smith music. On past tours, they have had the opportunity to open for Brandi Carlile, Ani DiFranco, and Ingrid Michaelson.
The Boston Globe has complimented Pearl and the Beard, saying "They transcend genre. It's indie folk music, but it's also infused with blues hollers, the occasional jazz riff, and a deep passion for the material."
Folk-pop quartet Bombadil creates "intricate wordplay and grand, resonant male harmonies that evoke Neutral Milk Hotel and the Proclaimers. It's a wild but deft union of influences: bluegrass, rock, hip-hop, hymns" (Time Out New York). The group released their fourth album, Metrics of Affection, this past year.
Video: Pearl and the Beard – "Reverend"
Video: Bombadil – "Born at Five"
Tickets can be purchased by calling 1.877.WOLFTRAP or online at wolftrap.org.
For more information, call The Barns at Wolf Trap at 703.938.2404 or our general information line at 703.255.1900.
High-resolution images of the artists listed are available on Wolf Trap's website: wolftrap.org/Media_and_Newsroom/Photos_for_Publication.aspx.