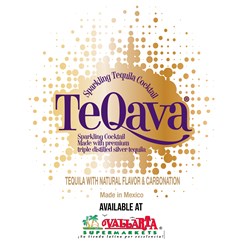 Bubbles & Tequila available at Vallarta Supermarkets. TeQava Sparkling Tequila Cocktail
Encino, CA (PRWEB) February 22, 2014
New to the US Markets from Guadalajara, Jalisco, Mexico, TeQava Sparkling Tequila Cocktail has reached a sales milestone. TeQava has been the top selling sparkling tequila cocktail in its category for the past three months at Vallarta Supermarkets, based in Sylmar, California. http://www.facebook.com/teqava
Brand Manager for TeQava, Manny Mejia, states, "Vallarta Supermarkets is the ideal supermarket chain for TeQava Sparkling Tequila Cocktail because of their commitment to providing quality and trend setting products to their customers. We have been active with their marketing department to promote TeQava at their stores as an upscale brand. It has been a successful endeavor and we hope to continue with this relationship for a long time."
About TeQava:
This is the First Premium Tequila Cocktail that is Carbonated, Ready-Mixed and 100% Naturally Flavored. TeQava, is made from a mix of premium triple distilled Tequila and fruit infusion. The color is clear and the taste is an explosion of rich, roasted Agave, followed by a pleasing burst of juicy nectar in the finish. 100% Blue Agave Tequila product is used, which is a more complex and more vegetal component than other grain spirits.
When mixed with fresh juices and other liqueurs to create new cocktails, the difference in flavor is immediately apparent. TeQava contains 100% Natural Flavors, 12% abv and comes in a 375ml size bottle.
About Vallarta Supermarkets:
Vallarta Supermarket is a family-owned Hispanic full-service supermarket that has been in business for almost 30years. Stores are located in Southern California and the Central Valley. Vallarta Supermarkets directly employs more than 8,000 local residents. The chain is deeply committed to providing a unique shopping experience and quality products to the communities that they serve. For more information, visit http://www.vallartasupermarkets.com.
Contact:
For more information, visit http://www.TeQava.com.
Marisol de Guzman
ST, LLC
310-728-9249
Marisol(at)TeQava(dot)com