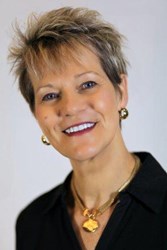 Building a business takes more than sitting behind a computer. It requires that men and women attend events where they can learn the latest and greatest for their industry.
Eugene, Oregon (PRWEB) February 21, 2014
Eager to learn how to set themselves up for success by way of the Internet, entrepreneurs from across the U.S. and Canada join together for Power Up for Profits Live in Phoenix, Arizona from May 15 - 17, 2014. http://www.powerupforprofitslive.com
Created and hosted by author Kathleen Gage, Power Up for Profits Live! will reveal how entrepreneurs can develop their own blueprint to turn their passions and expertise into profits.
Kathleen Gage is joined by Susan Lassiter-Lyons of The Profit Insights who will share specific strategies on how any entrepreneur can create more market reach, increase website traffic, generate leads and make more money through proven strategies.
Power Up for Profits Live! is designed for entrepreneurs who know their business is an expression of their life's work; those committed to making a positive difference in the world.
Participants will leave Phoenix armed with creative product creation, marketing and sales training you need to get their business profitable with high profit margins.
About Kathleen Gage:
Kathleen Gage is the "no-nonsense, common sense" online marketing strategist, speaker, author, product creation specialist, and owner of "Power Up for Profits." Kathleen helps entrepreneurs make money online. Her clients are driven by making a difference through their own unique voice.
Considered to be one of the nation's most passionate speakers, Kathleen is known for cutting through the fluff and helping people to leave their sob stories behind, so they can stop focusing on the past and start looking towards the future. She speaks and teaches about what she believes are the core elements of a successful life: accountability, integrity, honesty, and living with passion and hope.
Gage's mission is to help people understand that their business is merely a means to get their message out to the world. She teaches that it's not just about what you do, but the reasons behind why you do it.
Kathleen Gage is available for interviews, featured blog postings, articles and articles.
To learn more and/or set up an interview contact: Kathleen Gage at 541.746.5551 or kathleen(at)kathleengage(dot)com