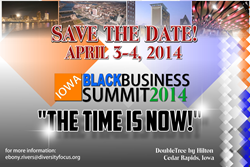 CEDAR RAPIDS, Iowa (PRWEB) February 25, 2014
The Iowa Black Business Summit is excited to announce the 2014 event to be held in Cedar Rapids on April 3 & 4, 2014. The Summit will provide networking and advancement opportunities for entrepreneurs and business owners at all stages.
Our goal is to grow Iowa into the premier state where all businesses can flourish. The Black population in Iowa needs a strong business community to support its growth. The Summit will be the bridge that connects those business owners by creating a sustainable network, providing education, and promoting collaboration.
"During the hard times, you need to know that people believe in you," said Carol Cater-Simmons, Co-Founder of the Iowa Soul Food Company. "You sometimes need to know people support you and your dream, even when you question your own abilities."
"We chose the theme, 'The Time is Now', because we want to catapult Iowa's small businesses through development and networking in our state," said Ebony Rivers, IBBS Executive Director and Diversity Focus Fellow for the African American community. "Black-owned businesses often fail because they operate without a network. We want business owners to grow their businesses, support other businesses, and give back to the community."
The Summit is for everyone who supports economic development through entrepreneurship and business growth and is open to people of all races.
For more information and to register for the 2014 Iowa Black Business Summit, visit http://www.iowablackbusiness.org, or contact Ebony Rivers at ebony(dot)rivers(at)diversityfocus(dot)org or 309-428-7259.