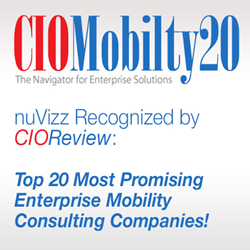 …we are very happy that our unique approach to Enterprise Mobility of giving companies a 'one-stop' solution for all of their mobile needs is recognized not only by our customers but also by industry thought leaders… – Guru Rao – Co-Founder, nuVizz
Atlanta, Georgia (PRWEB) February 26, 2014
nuVizz, Inc. today announced that it was recently recognized by CIOReview magazine as one of the "20 Most Promising Enterprise Mobility Consulting Companies".
In introducing the list, the CIOReview commented, "..the industry has seen a sudden spurt in the number of enterprise mobility solutions providers who have come up with several platforms that help organizations build their own apps. However, CIOs find it difficult to put their finger on the perfect solutions provider who will fit the bill of their specific needs."
Explaining the selection process, CIOReview commented, "..the listing intends to help CIOs find the solutions provider who can help build the perfect app tailored around an enterprise's specific needs. In the last few months we have looked through several companies to identify the ones that are at the forefront of tackling the enterprise mobility challenges. A distinguished panel comprising of CEOs, CIOs, VCs, industry analysts and the editorial board of CIOReview selected the Final 20…"
About nuVizz:
nuVizz Inc., a privately held company based in Atlanta provides Enterprise Mobile Solution platform and line of business mobile solutions. nuVizz approach to Enterprise Mobility is unique as it focuses on providing an end-to-end mobile solution for enterprises built on its mobile platform. The mobile business solutions are bundled with Enterprise Mobile infrastructure components such as Mobile Device Management (MDM) and Mobile Application Management (MAM) and the infrastructure components are offered for free with line of business mobile solutions. The consulting practice offers services in the areas of Enterprise Mobility and Supply Chain and Logistics.