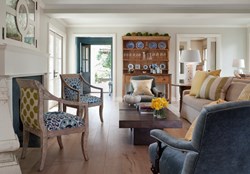 I wear many hats on a photo shoot, acting as producer, art director, photographer & stylist. My clients look to me to give vision to their story by making it engaging, thoughtful & beautiful.
San Francisco, CA (PRWEB) February 21, 2014
Coupar Consulting and renowned photographer David Duncan Livingston present Interiors PR: Make It Visual, a five-hour workshop at the San Francisco Design Center on March 26th. Competitive designers & architects are bringing their tactile 3-D world alive online and in print with strong visuals. This one-day workshop is for design principals and marketing directors to see the current trends in design magazines, learn how to style a photo shoot, and be fresh. Get the most useful photos by knowing how to produce a photo shoot to promote your project to traditional and new media publications.
See how a pro will "see" your project with case studies; and with the "eyes" of an editor, art director and stylist learn ways to better tell your story. Learn how to direct your photographer to get the right types of shots for the right kind of publication.
Each segment will be about 90 minutes have exercises to make the information relevant to your practice.
To purchase tickets, go to ttp://interiors-pr.eventbrite.com.
About Coupar Consulting and the Têtê-a-Têtê Membership:
Coupar Consulting is a San Francisco & Los Angeles based full-service business consulting firm specializing in building successful interior design firms & design businesses.
At Coupar Consulting we believe that people thrive when an organization gets strategic about how they run their business. We provide quick solutions, ground them with long-term visions and goals, and analyze how a firm can operate efficiently. The end result is transformative and the work becomes satisfying.
The Tete-a-Tete Membership provides resources and talent to grow your business in a way that is flexible and tailored to your needs. Scale your business to any capacity, based on the projects that fall before you.
The perfect middle point between working from home and taking on the financial responsibility of a personal office and staff, you can now manage the active and idle times of business in a way that is efficient and fluid.
Members will have access to the Tete-a-Tete Lounge, the premier destination in the SFDC to work and meet with clients, and a hand-picked team of experts offering you an elevated level of service to help you accomplish any project that at one time felt beyond your reach.