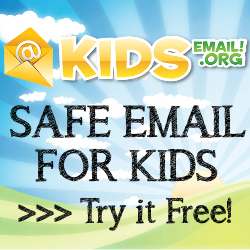 We couldn't be more thrilled to have surpassed 45,000 users
Shelley, Idaho (PRWEB) February 26, 2014
KidsEmail has reached another milestone. The safe email service for kids now protects more than 45,000 children from dangers they face on the Internet. "From the start, it has been our mission to protect children while helping them learn about and enjoy technology in a safe environment, all while giving parents peace of mind," says KidsEmail founder and CEO Jacob Andersen. "We couldn't be more thrilled to have surpassed 45,000 users. This milestone proves how valuable our safe email service is to parents."
Andersen founded KidsEmail.org in 2009, to give parents a customizable tool that empowers them to protect their kids from dangerous people and images on the Internet. Andersen and his team also made the email service fun for kids by allowing them to modify the look and feel of their email account by choosing fun templates.
Over the past year, KidsEmail has released mobile email apps for both Android and Apple devices to accompany the desktop version. While on mobile devices, kids can select an email recipient from a parent-approved list of contacts. The apps also allow kids to draw a picture inside the email or take a photo and attach it to the email message.
KidsEmail has received awards from several organizations dedicated to the wellbeing of children. The Family Review Center has honored KidsEmail as a safe and easy-to-use email service with its Seal of Approval, Editor's Choice Award, and 2013 Best of the Year award. HowToLearn.com recognized KidsEmail as one of its Top 101 Best Back to School Website. And, the kidSAFE Seal Program has certified KidsEmail as a safe interactive environment for kids.
To learn more about this award-winning safe email service for kids, parents can visit http://www.KidsEmail.org to sign up for a free 30-day trial. At the end of the trial period, if they find that the kid-friendly service is an effective tool for protecting their kids online, they can continue the service at an affordable monthly rate.