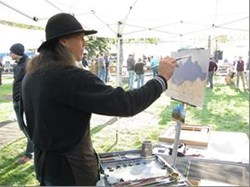 Jackson, Wyo., was recently ranked a top 10 small city for art lovers.
Jackson Hole, WY (PRWEB) February 21, 2014
A favorite on the annual arts festival scene, and one of the reasons Jackson, Wyo., was recently ranked a top 10 small city for art lovers, the 10-day Jackson Hole Fall Arts Festival will celebrate its 30th anniversary this September. In addition to its usual stellar lineup of arts-inspired events from gallery walks and the popular Jackson Town Square QuickDraw to architecture tours and Taste of the Tetons culinary arts, this year's festival, September 3 – 14, 2014, will name pieces by two artists – a painter and a sculptor – as featured art for the festival rather than the single artist's honor of past years. Sculptor Joshua Tobey's bronze "Jackson Symphony" will join Nancy Dunlop Cawdrey's large dye on silk painting "Forever Jackson" as 2014 featured works.
"In the past our featured art has typically been a painting, since that medium lends itself well to our annual Jackson Hole Fall Arts Festival poster, which has become a favorite collector's piece in its own right for many visitors," says Maureen Murphy, director of special events for the Jackson Hole Chamber of Commerce, organizer of the festival. "But the bigger our event becomes, the harder it is to choose a single artwork each year to represent the festival, so in honor of our 30th anniversary, we decided to feature two works – a painting and a sculpture."
Opportunities to meet featured artists Cawdrey and Tobey will be part of this year's schedule, which includes the Jackson Hole Fall Arts Festival's trademark mix of visual, contemporary, culinary, Western, landscape, wildlife and Native American arts. The festival offers visitors more than 50 family-friendly events, many of them free, surrounded by the Teton Mountain Range in its autumn colors – with a chance to purchase original artworks from cowboy to cutting-edge contemporary.
The 2014 Jackson Hole Fall Arts Festival roundup of art lovers' activities will include the Palates & Palettes gallery walk; tours of Jackson Hole homes and ranches; and the Taste of the Tetons with participants strolling historic downtown Jackson sidewalks sampling gourmet cuisine from area chefs. Other major scheduled events include the National Museum of Wildlife Art's Western Visions® Wild West 100 Party and Wild 100 Show & Sale; artists creating original works in a flash at the popular QuickDraw Art Sale and Auction in Jackson's Town Square; and museum-quality contemporary Western decorative arts on display at the Western Design Conference, which this year will include a new home and interior design feature.
Through a pursuit of texture and passion for color, featured Montana painter Nancy Dunlop Cawdrey discovered the spontaneity and brilliance of the thousands-of-years-old Chinese technique of painting on silk used in her "Forever Jackson" artwork created for the Jackson Hole Fall Arts Festival. Montana's expansive landscape serves as a primary inspiration for Cawdrey's work, which is included in private and corporate art collections across the U.S. and Europe. The son of ceramic and bronze sculptors, featured New Mexico sculptor Joshua Tobey began sculpting in clay and casting in bronze at six. Tobey is known for his bronze wildlife sculptures featuring a contemporary patina such as his art festival piece, "Jackson Symphony." An elected member of the National Sculpture Society, he has had work featured in national magazines including the cover of Wildlife Art magazine.
COMPANY INFORMATION:
Conveniently located just 20 minutes from the Jackson Hole Airport, Jackson, Wyo., is served by major airlines including Delta, United, American and SkyWest. Reservation information for Jackson's numerous hotels, as well as a complete schedule of Jackson Hole Fall Arts Festival events may be found at http://www.jacksonholechamber.com. For additional information, contact Maureen Murphy at Jackson Hole Chamber, 307.733.3316.
CONTACT:
Media Contact: Darla Worden, WordenGroup Strategic Public Relations, darla(at)wordenpr(dot)com, 307.734.5335