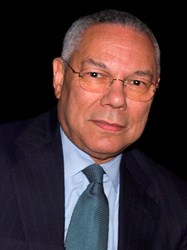 Alexandria, Va. (PRWEB) February 20, 2014
General Colin L. Powell, USA (Ret.) will share leadership insights gained over the course of 50 years in public service, when he delivers the keynote address at the ASIS International 60th Annual Seminar and Exhibits, Tuesday, Sept. 30 at the Georgia World Congress Center, in Atlanta, Ga. The keynote session is open to all registered attendees.
"We are honored to have such a distinguished statesman and military strategist at ASIS 2014," said ASIS President Richard E. Widup, Jr., CPP. "Attendees will benefit from his messages on leadership and his experience in both motivating and mobilizing teams to overcome obstacles and accomplish goals."
Powell's distinguished career includes both military and diplomatic positions in four presidential administrations. Under President George W. Bush, Powell was appointed Secretary of State, leading the State Department's efforts to address regional and civil conflicts in the Middle East, Sudan, Congo, Afghanistan, Iraq, and other locales. He also served as National Security Advisor under President Ronald Reagan, and Chairman of the Joint Chiefs of Staff for both President George H.W. Bush and for President Bill Clinton.
More than 20,000 global security professionals from both the traditional and information security disciplines are anticipated to attend this year's event, which offers education, networking, and an exhibit floor that features a wide range of security products and services.
Visit http://www.securityexpo.org for details, as well as the most up-to-date information on ASIS 2014.
# # #
ASIS International is the leading organization for security professionals, with more than 38,000 members worldwide. Founded in 1955, ASIS is dedicated to increasing the effectiveness and productivity of security professionals by developing educational programs and materials that address broad security interests, such as the ASIS Annual Seminar and Exhibits, as well as specific security topics. ASIS also advocates the role and value of the security management profession to business, the media, government entities and the public. By providing members and the security community with access to a full range of programs and services, and by publishing the industry's No. 1 magazine—Security Management—ASIS leads the way for advanced and improved security performance.