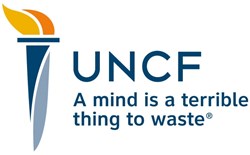 Los Angeles, CA (PRWEB) February 21, 2014
UNCF (the United Negro College Fund), the nation's largest minority education organization, will hold its 2014 San Diego UNCF Leaders Luncheon On The State of Education on Friday, February 28, 2014 in San Diego at Market Creek at Jacobs Center in San Diego. Funds raised will provide students with the support they need to get to and through college, and will also provide vitally needed operational support for UNCF's 37 Member Institutions.
During the event, UNCF Vice President for Advocacy Sekou Biddle will moderate a distinguished panel of education and government officials that will discuss creating a college ready culture and providing support to African American and other students of color. The panel will include:

Senator Marty Block (39th Senate District);
Assemblywoman Shirley Nash Weber (79th Assembly District);
Chancellor Constance Carroll, San Diego Community College District.
"I am pleased and honored to moderate this distinguished panel on how to ensure that young people of color in San Diego receive the education they need, and that we need them to have," said Biddle. "A college degree is more important than ever, and the investment we make now in the futures of our students and institutions will pay dividends for San Diego and for all of us as they become the leaders we need in the 21st century."
UNCF's first leaders luncheon was held in 2003 in Florida and hosted by Governor Jeb Bush. Now hosted by governors, mayors, and civic leaders across the country, the luncheons have since grown into one of the organization's premier fundraising and advocacy efforts.
Tickets are still on sale for $50, and sponsorships of the 2014 San Diego UNCF Leaders Luncheon on Education are still available. For more information on the Luncheon, tickets and how to become a sponsor, please contact UNCF Development Director Carolyn Trader at 213.639.3800, or Carolyn(dot)Trader(at)uncf(dot)org.
About UNCF
UNCF (United Negro College Fund) is the nation's largest and most effective minority education organization. To serve youth, the community and the nation, UNCF supports students' education and development through scholarships and other programs, strengthens its 37 member colleges and universities, and advocates for the importance of minority education and college readiness. UNCF institutions and other historically black colleges and universities are highly effective, awarding 20 percent of African American baccalaureate degrees. UNCF administers more than 400 programs, including scholarship, internship and fellowship, mentoring, summer enrichment, and curriculum and faculty development programs. Today, UNCF supports more than 60,000 students at over 900 colleges and universities across the country. Its logo features the UNCF torch of leadership in education and its widely recognized motto, "A mind is a terrible thing to waste."® Learn more at UNCF.org.