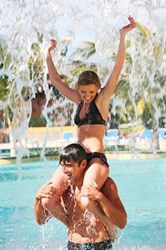 St. Lucia will be featured in the last two episodes of this season's "The Bachelor" and hotels have created irresistible vacation packages to welcome couples inspired by the show to visit the island.
Miami, Florida (PRWEB) February 21, 2014
The lush, sun-drenched island of St. Lucia will be featured in the last two episodes of this season's "The Bachelor," the hit reality TV series. The shows air February 25 and March 10, 2014 at 8/7c on ABC. This is the second time that the hit-series has brought the show's climatic ending to St. Lucia. In the last episodes of each season, the bachelor narrows down his dating pool to three women, whom he takes to an exotic location. While on that romantic location, he decides on "the one" with a rose ceremony and often proposes. Though we can't reveal any secrets, the show has inspired several hotel packages. Package descriptions are below. For details and to book the packages, call 877-442-7563.
"Pop the Question" at Calabash Cove - Calabash Cove, recently featured in Coastal Living magazine, is a boutique hotel on the coast of St. Lucia. The hotel is offering a special "Pop the question – from Bachelor to Married Man" package that creates the perfect setting for a proposal. The 6-night package includes welcome fruit and wine in the room upon arrival, nightly turn down service, breakfast in bed daily, a private beachfront dinner for two, an all-inclusive meal plan and accommodations in a Water's Edge beachfront Cottage. Nightly rates start at $360 per person. For more information, visit http://www.calabashcove.com. To book the package, call 800.917.COVE (2683).
"Red Rose Celebration" at The Landings St. Lucia - The Landings St. Lucia, a four-star luxury beachfront resort and spa, offers the "Red Rose Celebrations" package which includes a red rose bouquet upon arrival at the airport, airport transfers on-island, complimentary room upgrade to a suite with a plunge pool, champagne and rose petal turndown service, three-course dinner, a couples massage at the resort's Soleil Spa, a sunset cruise, a photo shoot and $500 credit for a return trip. The five-night package starts at $222 per person, per night with breakfast, taxes and service charges included. For information on the resort, visit http://www.thelandingsstlucia.com/. To book the package, call 555.662.5349.
Escalating Romance at Coconut Bay Resort & Spa - Lovebirds can create their own rose ceremony at Coconut Bay Resort in St. Lucia, which has three heart-throbbing packages that blend love and adventure while exploring the exotic island of St. Lucia. The seven-night "Rendezvous" package is $2399 per couple and includes champagne check-in, champagne turndown service, couples only dinner, intro to kite-surfing lesson, and a $250 resort credit. Couples wanting more can upgrade to the "Enchantment" package, which includes all the offerings of the "Rendezvous" plus a private beach picnic for two, private chauffeured island tour 1/2 day, 1 hour beach-side horseback riding for two for $2699 per couple. The "Fantasy" package offers everything in the "Enchantment" package plus a private catamaran 1/2 day sightseeing and snorkeling cruise for two, and a $250 resort credit for $3269 per couple. To learn more about Coconut Bay Resorts, visit http://cbayresort.com/. To book the package, call 877.352.8898.
AskMeInc is a Miami-based firm focused on providing hotels and resorts in the Caribbean and Mexico with hospitality solutions. The company's turn-key systems offer professional representation, virtual call center services and grassroots marketing to maximize revenue and enhance visibility. AskMeInc has a division that specializes in destination weddings and romance travel. For more information, visit http://www.AskMeInc.com.