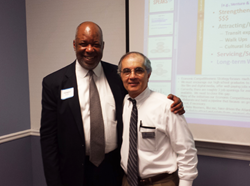 United Consulting initiated the seminar series in an effort to help their clients obtain Professional Development Hours credits.
Norcross, GA (PRWEB) February 25, 2014
Last Tuesday, February 18, United Consulting, an engineering firm focused on environmental services and engineering, hosted their February lunch seminar series with keynote speaker Douglass Hooker, Executive Director of the Atlanta Regional Commission (ARC), who gave a talk titled "Atlanta: Where We Are, Where Are We Headed?".
The event hosted almost 50 engineers, developers and city and county professionals who networked over a complimentary Italian lunch and a riveting presentation by Mr. Hooker. Mr. Hooker's presentation touched on the topics of metropolitan Atlanta housing trends, transportation initiatives and education.
One of the attendees complimented Mr. Hooker's presentation saying: "This was an excellent presentation; extremely informative and well organized."
The lunch seminar also took place during National Engineers Week: a holiday celebrated annually the third full week of February to call attention to the contributions engineers make to society. It was also a great reminder for engineers to continue their education and growth in their fields.
United Consulting initiated the seminar series in an effort to help their clients obtain their Professional Development Hours (PDH) credits. The company knows that sometimes engineers can become busy with their work and family life and not have an easy way to obtain a portion of the required hours needed to maintain their professional license.
In keeping with the basic requirements (refer to the 2010 ACEC/G Directory), United Consulting's lunch seminar industry experts' topics are industry related, educational and informative. At every monthly seminar, the company has space for about 40 people, and there is no charge.
The lunch seminar is held regularly on a monthly basis on the third Tuesday of every month from 11:30 a.m. to 1:30 p.m. United Consulting provides a complimentary hot lunch during a networking hour prior to the industry expert's presentation in one of the AV-equipped rooms. The company provides note paper, pens and completion certificates for all attendees.
For more information about United Consulting or the seminars offered, please send an e-mail to jkelava(at)unitedconsulting(dot)com.
About United Consulting:
United Consulting is a multidiscipline engineering consulting firm based in Atlanta, Georgia. Our technical services include geotechnical engineering, environmental consulting, geophysical exploration services, and construction materials testing. Since incorporation in 1990, the firm has enjoyed a strong strategic growth. With an emphasis on continuing education, the firm employs a well-trained staff, allowing us to undertake successfully some of the biggest and most challenging projects in the Southeast.
About Mr. Douglass Hooker
Douglas Hooker is the executive director of the Atlanta Regional Commission (ARC). As head of the official planning organization for the 10-county, 70-city Atlanta region, he oversees regional planning programs in the areas of transportation, community development, land use, water and natural resources, aging services, workforce development arts & culture and more. Prior to joining ARC in 2012, Mr. Hooker worked as an executive and/or engineering manager for Georgia Power, the State Road & Tollway Authority and several other organizations, including the City of Atlanta's Public Works Department, which he led through the 1996 Olympic Games. A graduate of Leadership Atlanta, Leadership Georgia, the Regional Leadership Institute and the Institute for Georgia Environmental Leaders,, he co-founded and chaired the Civic League for Regional Atlanta and currently serves on numerous boards including the Council for Quality Growth, CHRIS Kids and the Georgia Tech Advisory Board. Doug holds a Bachelor's in Mechanical Engineering and a Master's in Technology & Science Policy from Georgia Tech, as well as an MBA from Emory University's Goizueta Business School. He is married to Patrise Perkins-Hooker. In his spare time he likes playing in a community band, composing music and reading.