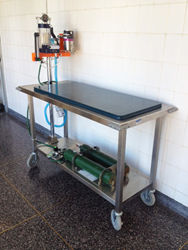 "DRE Veterinary's stainless steel options are great for customers who are looking for top quality and durability fitted exactly to their needs." - Nathan Claypool, director of DRE Veterinary Heath and Animal Sciences
Louisville, KY (PRWEB) February 25, 2014
DRE Veterinary — a new and professionally refurbished equipment supplier — is expanding its line-up of high-quality, durable, custom made stainless steel equipment for the operating room.
Nathan Claypool, director of DRE Veterinary Health and Animal Sciences, is looking forward to giving customers more options when it comes to custom-made stainless steel products.
"DRE Veterinary's stainless steel options are great for customers who are looking for top quality and durability fitted exactly to their needs," Claypool said. "Our technicians focus on making the best products possible, and that same standard will be true in the new products they'll be producing as part of the expanded line."
The company's stainless steel technicians work directly with customers to discuss customization options — anything from minor tweaks to a completely custom-designed unit. With DRE, clients can get a product that meets their needs and integrates seamlessly into their veterinary practice.
Jessica Risley, a veterinary technician with the University of Illinois College of Veterinary Medicine, said DRE made ordering their stainless steel gurney easy.
"We ordered this stainless steel gurney to use as a portable anesthetic machine/gurney," Risley said. DRE customized the wheels since we do a lot of the travelling throughout our hospital. The customer service and ordering process was smooth. We've been extremely pleased with our customized order!"
DRE recognizes the benefits of using stainless steel to outfit operating and exam suites. Stainless steel is non-porous, easy to clean and durable to everyday use. It's ubiquitous in the medical industry due to its standard simplicity and longevity.
DRE Veterinary's stainless steel products are fully-welded, meaning parts are fused together instead of using nuts and bolts that can wear down the steel with everyday use. Welding pieces together produces a stronger product that has a lesser chance of weakening over time. The products are also assembled using sturdy 16-gauge steel that won't warp under pressure.
When it comes to the way stainless steel furniture is manufactured, DRE Veterinary knows there can be a big difference in methods that can significantly change the longevity of the product. For DRE's line of stainless steel products, they chose the best way — one that will benefit veterinary practices for many years to come.
The continuously growing line-up of American-made, NSF-approved stainless steel includes:

Wet tables
Scrub sinks
Exam and Procedure tables
Gurneys
Click here for more information about DRE Veterinary's line of stainless steel medical furniture and accessories.
About DRE Veterinary
For over 25 years, DRE Veterinary has worked with many of North America's top veterinary facilities and organizations. They provide products and services that make sense, save their client's time and money, and allow veterinary surgeons to do the things they do best. DRE Veterinary is located in Louisville, Ky.