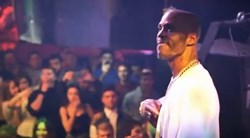 DMX is continuing to do what he does best… music.
Geenville, SC (PRWEB) February 20, 2014
The Dog is back on the loose and this time he's running wild all over the state of Texas. From March 6-12 X will be conducting a seven city tour throughout the Lone Star state and the schedule is as follows:
March 6th - Abilene, TX at Lucky Mule Saloon
March 7th - Houston, TX at Scout Bar
March 8th – San Antonio, TX at Backstage Live
March 9th - Pharr, TX at Pharr Events Center
March 10th - Laredo, TX at Club Annex at the Laredo Energy Arena
March 11th - Corpus Christi, TX at Brewster Street Ice House
March 12th - Dallas, TX at Trees
Other non-Texas shows include February 28th at Midnite Rodeo in Charlotte, NC and March 13th at The Howlin' Wolf in New Orleans, LA.
Things have been going well for DMX in the last few months. He acquired his passport and performed overseas for the first time in nearly eight years and he also has received a valid driver's license. "We are happy to announce that DMX is continuing to do what he does best… music. The team is very excited about this tour and it is the first of many that we have planned for 2014." ~Domenick Nati (Nati Celebrity Services)
For more information, contact Montana at (347) 601-0861.