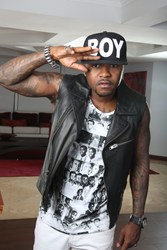 (PRWEB) February 24, 2014
Swazy Styles, globally known for his monster hit "Birthday Suit" recorded with Lil Jon, in 2011, has released his new single, "Standin' on Couches," YouTube video link below. With its east coast vibe and blend of rap, hip-hop and R&B this is the ultimate party anthem.
"Standin' on Couches" is sure to follow "Birthday Suit" as a top hip hop/rap song to be consistently featured on urban stations throughout the country.
Based in Miami, Swazy is popular in top hip hop markets like Philadelphia, Chicago, Atlanta, Orlando and Los Angeles. He has performed all over the U.S. and has been featured with world-renowned artists such as Pitbull, Flo Rida, LMFAO, Rick Ross, Jason Derulo, and others.
He is blowing up all over the club scene in Miami, Philly, Atlanta and is available for appearances nationwide.
Check out "Standin' On Couches"
http://www.youtube.com/watch?v=o_bVP7x5Uas
Swazy is available for telephone and in-studio interviews.
For booking info, please contact –
Katie Mixon
Simply the Best PR
Office: 561.210.4411
Cell: 863.289.0511
katie(at)simplythebestpr(dot)com