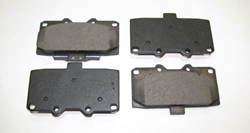 All The Parts Your Car Will Ever Need
Madison, WI (PRWEB) February 27, 2014
RockAuto.com now has over 400,000 sets of "Wholesaler Closeout" brake pads and shoes available to customers. Name brand, premium brake pads that for some vehicles now cost less than $6 a set. Wholesaler closeouts might come from an auto parts chain that decided to switch the brand of brakes they sell. They might come directly from a brake manufacturer that decided to reduce their inventory. Whatever the reason, RockAuto.com pays a lot less for these parts and can afford to sell them for much less than retail price.
With over 400,000 sets of brakes now in inventory, many RockAuto customers have more than one set of wholesaler closeout brake pad brands to choose from. Owners of older vehicles can select brakes from RockAuto's expansive regular inventory, plus they might have a choice of four or five more wholesaler closeouts. Most wholesaler closeout brakes have instantly recognizable, famous brands. RockAuto's professional mechanic and do-it-yourself customers have an opportunity to buy new, name brand brake pads or shoes for less than the price of a few gallons of gas.
Visit RockAuto.com for more information. All brake pads and shoes are found under the "Brake/Wheel Hub" category in the easy to use RockAuto.com online catalog.