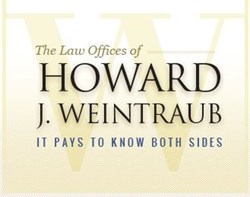 Atlanta, GA (PRWEB) February 20, 2014
The Law Offices of Howard J. Weintraub, P.C. is proud to announce that current associate Benjamin Black Alper is being promoted to Partner. Ben has been with the Law Offices of Howard J. Weintraub, P.C. since May 2010 and has proven himself to be an extremely adept and capable attorney. Clients, prosecutors, and Judges all respond well to Ben and remark on his outstanding professional ability at such a young age.
Ben began his collegiate career as a Cadet with the United States Military Academy in West Point, NY and graduated With Honors from Washington University in St. Louis, Missouri where he majored in Economics. Ben then graduated from Atlanta Georgia, Emory University School of Law in 2009. Emory historically has ranked in the top twenty law schools in the United States. While in law school, Ben worked for the State of Georgia Attorney General's Office and the United States Attorney's Office for the Northern District of Georgia. Ben also worked closely as a research assistant to Professor Morgan Cloud providing research and writing assistance in the area of white collar crimes.
In May, 2010, Ben was hired as an associate by The Law Offices of Howard J. Weintraub, P.C. and immediately hit the ground running assisting Managing Partner Howard Weintraub with his longstanding criminal defense practice. Ben's legal acumen and devotion to his clients led him to be named one of Georgia's Legal Elite Attorneys by Georgia Trend Magazine. This recognition is determined by the votes of other attorneys in Georgia. Recently, Ben was an instructor at the State Bar of Georgia, Young Lawyers Division, Criminal Section Continuing Legal Education Seminar wherein Ben taught other Georgia lawyers about how to obtain and use social media evidence in criminal cases. In April, 2013, Ben was quoted by People Magazine regarding the Atlanta, Georgia DUI arrests of actress Reese Witherspoon and her husband Jim Toth by the Georgia State Patrol.
Ben's promotion to Partner at The Law Offices of Howard J. Weintraub should make local residents confident that a proven criminal defense firm continues to place an emphasis on employing talented lawyers that fight passionately on behalf of clients. More information about the cases the firm handles can be found on the firm's website: http://www.ga-criminaldefense.com.
About the Author:
Benjamin B. Alper has dedicated much of his legal career to fighting on behalf of the criminally accused. As Partner at The Law Offices of Howard J. Weintraub, Mr. Alper defends residents throughout Atlanta and the state of Georgia against a variety of criminal allegations, including DUI, drug crimes, federal crimes, and more.