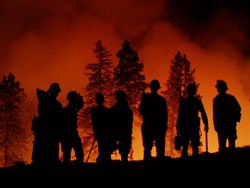 'We are preparing for the upcoming fire season this year,' said Deborah Miley, Executive Director
Reno, NV (PRWEB) February 20, 2014
The National Wildfire Suppression Association (NWSA) is holding its annual Conference this year in Reno, NV on February 24 & 25th at the Peppermill Casino & Resort. NWSA was founded in 1991, and to date has over 200 members companies from 23 states which provide resources ranging from heavy equipment, fallers, water handling and hand crews to the agencies under various contracts and agreements. The members of NWSA can field up to 10,000 fully trained and equipped firefighters when needed. The focus of our conference this year is "Everyone Goes Home," and looking at safety, preparedness and training of our firefighters.
"We have several agency personnel from all over the West that will be talking with our folks about what to anticipate for the upcoming year, and how best we can be prepared for it," said Deborah Miley, NWSA Executive Director.
Contractors will meet with dispatchers, fire directors, contracting folks and also having any early "Fire Weather Outlook" from a member of NWSA who is a meteorologist. In addition to that there will be apanel of folks from an Incident Management Team that will be sharing information on how to effectively help complete the mission on the lines.
Private industry has long been utilized and currently makes up about 40% of all resources available to the agencies when needed in response to fire suppression efforts.
One of the highlights will be the Auction to benefit the Wildland Firefighter Foundation, with 50% of all proceeds going to help them in their endeavors. To date, NWSA members have raised over $250,000 which has been donated to the Wildland Firefighter Foundation, it is a tradition we are proud of.
The National Wildfire Suppression Association will also be debuting it's magazine,"Fireline" in May of 2014 with the focus on utilization of private industry in emergency response especially wildfires, and the role we play.
""We will be ready to assist whenever and wherever our services are required this fire season and this just reinforces our focus on safety and training." said Rick Dice, NWSA President.