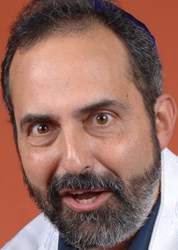 "reliably magnetic charm… material as richly descriptive… subtle as a fine short story"-Robert Hurwitt | San Francisco Chronicle theater critic
San Rafael, CA (PRWEB) February 21, 2014
Two unique rides at a carnival of comedic monologues at the Kanbar Center for the Performing Arts at the Osher Marin JCC.
With "Feisty Old Jew", award winning Charlie Varon takes the audience on a ride with Bernie, who at 83 is fed up with so much, including San Francisco's tattoo parlors, medical marijuana dispensaries, designer coffee and waiting for cabs… which leads him to thumb a ride to Marin… and takes Bernie and his new acquaintances for quite an adventure.
Interview with Charlie Varon and Robert Hurwitt
"reliably magnetic charm… material as richly descriptive… subtle as a fine short story"
-Robert Hurwitt | San Francisco Chronicle theater critic
The afternoon opens with Maxine Epstein's new work, a 15 minute monologue entitled: "Pushin' the Pushka".
WHAT: "Feisty Old Jew" & "Pushin' the Pushka"
Two one person performances
WHEN: Sun, April 6 @ 2:00 pm. In the Hoytt Theater
WHERE: The Osher Marin JCC, 200 N San Pedro Rd. San Rafael, CA
From Highway 101 is effortless, ¼ mile E off 101
PARKING: FREE, available on site & off site
TICKETS: $15- $20 | $25 at the Door
Open cabaret-style tables and theater seating
Charlie Varon has been called "very funny" (The New Yorker), "hilarious" (The Washington Post), and "wildly entertaining" (SF Chronicle). He has been performing at The Marsh for over two decades, where his many solo shows have won audience and critical acclaim. These shows--all created in collaboration with David Ford--include Rush Limbaugh in Night School, The People's Violin and Rabbi Sam. Charlie has performed all over the country, and his plays have been translated into 820 languages.
"Hilarious and poignant" "Pure artistry!" "Spunky and lovable characters"
The Kanbar Center for the Performing Arts is the Performing Arts Department within the Osher Marin Jewish Community Center in San Rafael, California. For over 20 years we have spread the power of music, voice, humor, taste, culture, movement and words throughout the community by presenting classical music, club style dancing events, comedy, musical concerts, theater and performance in the grand Hoytt Theater, lectures, chats and demonstrations in the Kurland lounge and great world music & dancing for all ages outdoors under summer skies on Swig Field. All are welcome; no membership is required to attend. The Center is a long-standing Marin non- profit, centrally located in Marin County and just 1/4 mile east off Hwy 101