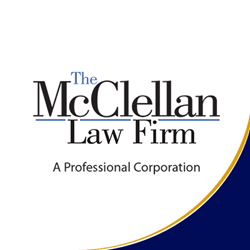 San Diego, CA (PRWEB) February 20, 2014
The McClellan Law Firm, a personal injury and business litigation firm based in San Diego, has launched a new website to provide information about its two practice areas to Southern Californians. The site features descriptions of different types of personal injury and business law cases as well as insight into how the firm can help clients.
Attorney Craig McClellan has a number of impressive awards, which he has gathered over the course of his practice as a San Diego personal injury and business litigation attorney. He is recognized as a leading attorney in the area of personal injury and utilizes his knowledge on the subject to develop a helpful resource containing articles on such varied claims as those involving airplane accidents, amusement park accidents, defective products, professional negligence, and more. He discusses serious accidents including those resulting in wrongful death and severe injuries such as brain injury and spinal cord damage.
Motor vehicle accidents are the leading cause of personal injury claims in the nation, so a substantial portion of the site is dedicated to this subject. Articles on rollover accidents, defective highway design, and dangerous auto defects such as faulty seat belts serve to branch out from the typical personal injury information regarding car accidents, which tends to focus on the liability of the other driver without exploring other possibilities or aspects of these cases.
Another section of the site is dedicated to business litigation, describing complex corporate legal issues such as breach of contract, business torts, commercial litigation, unfair business practices, insurance issues, construction litigation, intellectual property litigation, and more in considerable depth. The site was developed with assistance from Scorpion Design, LLC, a legal marketing company based in Valencia.
The McClellan Law Firm has served Southern California residents since 1987. An award-winning practice led by Craig McClellan, the firm is noted for sophisticated and elite representation. For more information about the firm, call or visit http://www.mcclellanlaw.com.