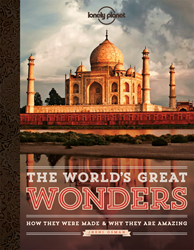 This book takes you a step further on your travels, revealing the science and engineering behind how epic structures were built or incredible natural wonders formed.
Oakland, CA (PRWEB) March 10, 2014
From Lonely Planet, the world's leading travel publisher, The World's Great Wonders brings together the 50 most amazing manmade structures and natural creations from across the globe.
Discover the optical illusions of the Taj Mahal, how the Easter Island statues "walked", why the world's tallest skyscraper won't topple over and how the Maglev train floats on air. Find out why Death Valley is consistently the hottest place on Earth, why trees don't grow taller than 116m, why the northern lights glow in different colors and what kind of life lives deep down in the Dead Sea.
For anyone who has visited an incredible site and been curious about how it came to be, this hardcover title reveals the geological and engineering secrets behind each 'wonder'. Each site is detailed with fascinating facts, stunning photography, step-by-step illustrations and detailed cutaways that give the reader an insight into its creation and existence.
The World's Great Wonders includes the secrets behind:

Unique landscapes, like the Giant's Causeway and Bolivia's Salar de Uyuni
Dramatic water wonders, such as Afghanistan's Band-e Amir and Belize's Great Blue Hole
Manmade mysteries, including Easter Island moai and Peru's Nazca Lines
Modern marvels, for example Dubai's Palm Jumeirah and the Panama Canal
Natural phenomena, like the aurora borealis and Kilauea volcano
Ancient structures, such as the Acropolis and Great Pyramids of Giza
Jheni Osman, author of The World's Great Wonders, is a science journalist and former editor of the BBC's award-winning science and technology magazine Focus. She says "This book takes you a step further on your travels, revealing the science and engineering behind how epic structures were built or incredible natural wonders formed. It was always going to be tough to reduce all the world's amazing wonders into 50 must-see sights, but this book spans the heights of engineering, the spectrum of beautiful architecture, and the eons of time."
About the Book:
The World's Great Wonders
Written by Jheni Osman, published by Lonely Planet
ISBN: 978 1 74321 430 5
256pp, full-color, 9.4"x7.3", hardcover, $24.99
March 2014