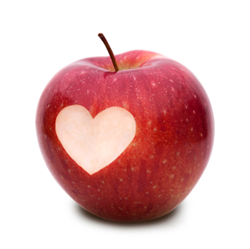 Vienna, VA (PRWEB) February 24, 2014
An apple (or two) a day keeps not only the doctor – but the cardiologist – away. USApple is reminding people that eating apples can be one of the most convenient and accessible ways to fight many of the factors that contribute to heart disease, the leading cause of death in the United States.
Here are four reasons why:
1. An Ohio State University study recently found that eating an apple a day for four weeks lowered blood levels of oxidized LDL – the bad cholesterol – by 40%.
2. A University of Oxford (UK) study found that eating an apple once a day may be just as beneficial as daily statin use when it comes to preventing vascular deaths in individuals over 50.
3. A University of Florida study found eating two apples a day reduced LDL by 23%.
4. Studies show people who eat apples or apple products regularly are more likely to have lower blood pressure and trimmer waistlines.
February is American Heart Health Month. To help inspire a heart healthy lifestyle, USApple and its members are offering consumers apple-related prizes on its Facebook page, https://www.facebook.com/USAppleAssociation, every day throughout the month.
Sources for these and other studies are available by contacting USApple.
About U.S. Apple Association
The U.S. Apple Association (USApple) is the national trade association representing all segments of the apple industry. Members include 40 state and regional apple associations representing the 7,500 apple growers throughout the country, as well as more than 400 individual firms involved in the apple business. USApple's mission is to provide the means for all segments of the U.S. apple industry to join in appropriate collective efforts to profitably produce and market apples and apple products. More information on the organization is available at http://www.usapple.org.
# # #